Thank you to everyone that attended our luncheon!
ATTENTION: Centerpiece winners, bring the card from your popcorn box to the Glacier Brew House to claim your free growler fill.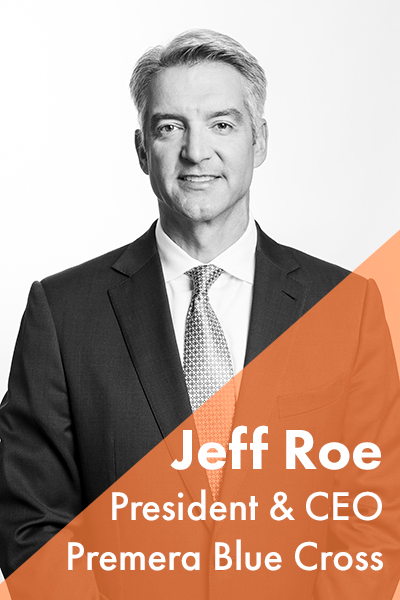 Biography
Jeff Roe is the President and Chief Executive Officer of Premera Blue Cross. Roe joined Premera in 1996, served in roles leading the company's employer and individual market segments, and became President in January 2014. His leadership in insurance also includes positions as Co-President of Safeco Insurance and Chief Marketing Officer for Torrent Technologies. Roe started his career in the Washington, D.C., office of U.S. Senator Slade Gorton and later consulted as a member of The Gallatin Group, a public affairs firm. Roe serves on the boards of the National Institute for Health Care Management, Blue Cross Blue Shield Association, Washington Healthcare Forum, University of Washington Foster School of Business, the Visiting Committee of the University of Washington Economics Department, Washington Roundtable, and United Way of Snohomish County. Roe earned bachelor's degrees in economics and political science and a master's degree in business administration from the University of Washington.
About Premera Blue Cross
Our purpose is to improve customers' lives by making healthcare work better. We provide health coverage and related services to approximately 2.1 million people in Washington and Alaska. Premera Blue Cross has operated in Washington since 1933, and Alaska since 1952. Premera Blue Cross is an independent licensee of the Blue Cross Blue Shield Association. Premera Blue Cross is a member of a family of companies based in Mountlake Terrace, Washington, that provide health, life, vision, dental, stop-loss, disability, and other related products and services. For more information, visit 
www.premera.com
.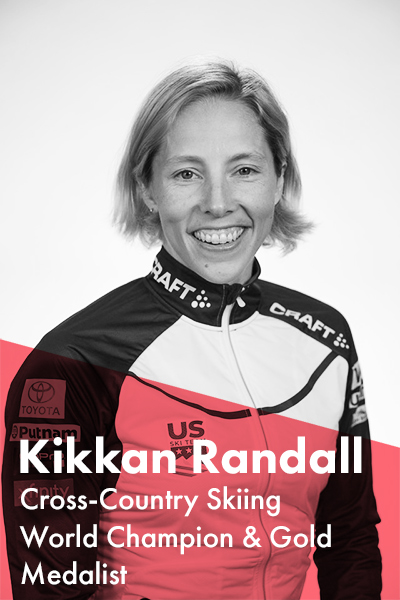 Biography
A five-time Olympian, 2018 Olympic gold medalist and repeat world champion, skier Kikkan Randall is known for her positive team spirit, never-give-up work ethic and extensive career with the U.S. Nordic Team. As a lead ambassador for Fast and Female and a spokeswoman for the Alaska Hall of Fame's Healthy Futures program, Kikkan works to empower girls through sports and encourage healthy physical activity among youth across the United States.
Join us on July 25 at 10:30 a.m. at the Dena' Ina Center for our annual 3-Year Outlook Luncheon! Hear our predictions on the economy overall and every major industry based on the data released so far for 2018. Jeff Roe of Premera Blue Cross headlines as our keynote speaker. Health care is on everyone's mind right now, especially since Alaska takes the top three spots in the nation as the places with the most expensive health care! Kikkan Randall, cross-country skiing world champion and gold medalist will also make an appearance to talk about overcoming adversity, and the importance of sticking with things when the going gets tough — something topical to Alaskans right now. Get your tickets soon, they always sell out before the event.
10:30 am – Doors to the Entrepreneur Hall open
11:00 am – Main ballroom doors open
11:30 am – Program begins 
1:00 pm – Program concludes
Thank you to our 2018 3-Year Outlook Luncheon Sponsors!
Keynote Speaker Co-Sponsors:
Special Speaker Co-Sponsors:
3-Year Outlook
Report Co-Sponsors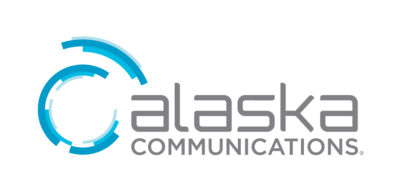 Centerpiece Sponsors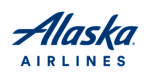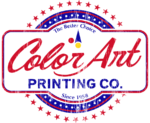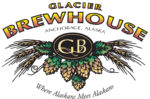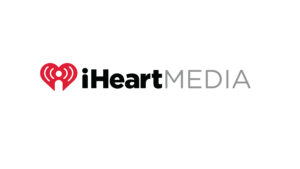 Alaska Fitness Equipment, Alaska Heart and Vascular Institute, Alyeska Resort, BAC Transportation, Bering Straits Native Corporation, ConocoPhillips, DOWL, Eklutna, Inc. Enterprise Engineering, Inc., Larry and Barbara Cash, Northrim Bank, The Alaska Club, The Wilson Agency, TrailerCraft
Alaska Regional Hospital
,
Alaska USA Federal Credit Union,
BDO USA, LLP
, 
Chugach Electric Association
,
CIRI
,
Denali Federal Credit Union
, 
ExxonMobil,
Hotel Captain Cook
, 
Pacific Northwest Regional Council of Carpenters,
Providence Health & Services Alaska,
Ravn Air Group
, 
The Strive Group
, 
TOTE Maritime
Superman Moving & Storage, LLC
Special thanks to The Chariot Group, Epson, Visix, Mediasite, Creative Lighting & Sound, Dena'ina Civic & Convention Center, EasyPark and McDowell Group, and volunteers from Alaska Communications, American Red Cross of Alaska, American Cancer Society, Anchorage Chamber of Commerce Young Professionals Group, Bettisworth North, Camp Fire Alaska, Girl Scouts of Alaska, Keller Williams, Matson, Northern Air Cargo, Regal North Commercial, University of Alaska Anchorage and UAA College of Business and Public Policy Economics Department and Visit Anchorage.