2021 3-Year Outlook Luncheon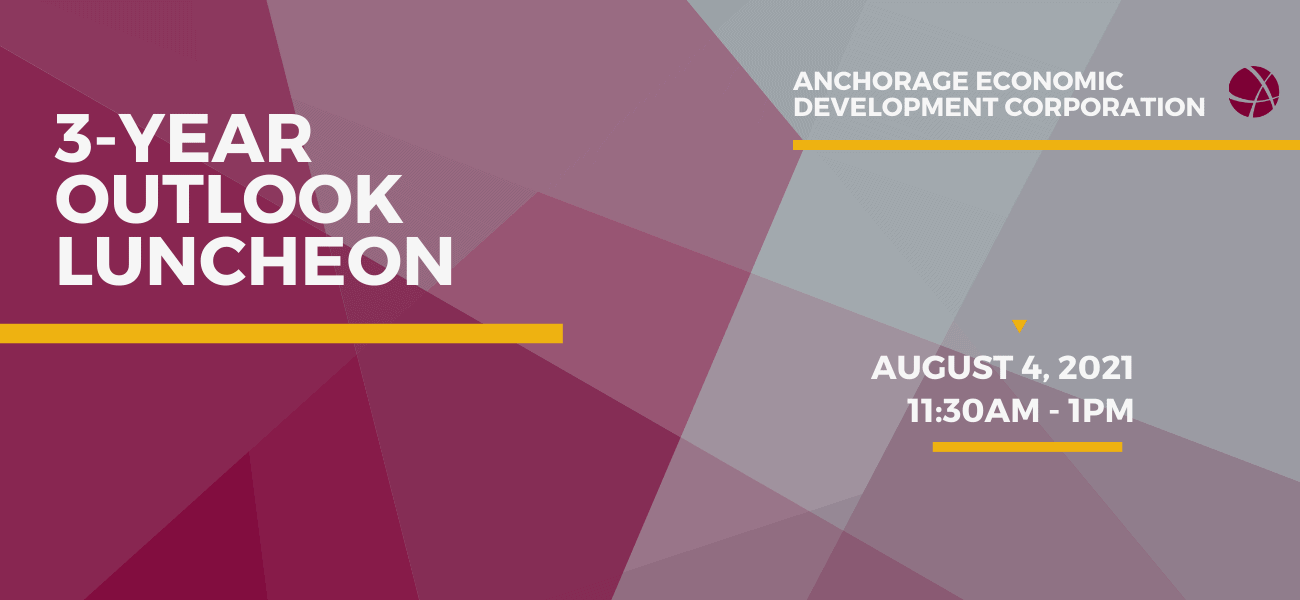 The 2021 3-Year Outlook Virtual Luncheon was August 4, 2021,  11:30am – 1:00pm.
The 3-Year Outlook Luncheon covered the projected trajectory of the local economy based on a review of historical and current data, interviews with representatives of businesses and organizations and analysis of current events. The outlook considers trends in eight key indicators including population, employment, personal income, air passenger and freight volumes, building permits, Port of Alaska tonnage, visitor industry activity and oil prices.
Watch a recording of the 2021 3-Year Outlook below. Keynote speaker Mark C. Perna's presentation is not included in the recording or rebroadcast.
Watch or listen to a rebroadcast of the luncheon on these Alaska Public Media Platforms:
KAKM-TV
Friday, Aug. 27, 8 p.m. – 9 p.m.
Saturday, Aug. 28, 1 a.m. – 2 a.m.
Monday, Aug. 30, 3 p.m. – 4 p.m.
KSKA-FM (91.1)
Sun Aug 29, 1-2pm
Want to know more about this year's event? Click here to see the event program.
Read the reports that informed this year's presentation on here on AEDC's website.
Get access to keynote speaker Mark Perna's slides here.
Mark C. Perna, the 2021 3-Year Outlook keynote speaker
Mark C. Perna is the founder and CEO of TFS Results, a full-service strategic communications and consulting firm at the forefront of the national paradigm shift in education and workforce development. As an international generational expert and Forbes.com contributor, Mark empowers educators and employers to unleash the tremendous potential of today's young people. In addition to hosting the weekday Perna Syndicate micro-podcast, he delivers more than 70 virtual and in-person keynotes annually across North America and spoke at Harvard University by special invitation. At TFS Results, Mark's team shares his vision of helping organizations experience significant gains in recruitment, engagement, retention, and performance. Mark, who serves on the Advisory Council for the Coalition for Career Development in Washington, DC, wrote his award-winning bestseller Answering Why: Unleashing Passion, Purpose, and Performance in Younger Generations to help educators, employers, and parents understand the millennial and Z generations and inspire them to greater performance in all areas of life. Find out more at MarkCPerna.com.
Thank you to our sponsors
Technology Sponsor                           Dessert Sponsor
Ticketing Sponsor

Gift Basket Sponsor

Real-Time Jobs Intelligence Report Sponsor

Contributing Sponsors

Alaska USA
BDO
Chugach Electric Association
ConocoPhillips
Denali. A Division of Nuvision Credit Union
Hotel Captain Cook
Providence Health & Services Alaska
TOTE Maritime
Supporting Sponsors
Alyeska Resort
CIRI
Cook Inlet Tug and Barge
DOWL
RIM Architects
USI Insurance
Program Ad Sponsor
Wilson Albers
Program Sponsor

Media Sponsors




Production Sponsor