[Photo above: Valerie Walsh, Bill Popp and Brooke Taylor with the awards.]
Five Alaska organizations, including AEDC, were honored by the International Economic Development Council (IEDC) at its annual conference this week, held in Anchorage this year.
IEDC's Excellence in Economic Development Awards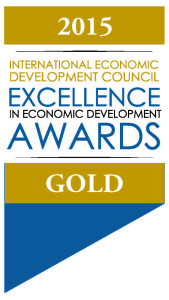 AEDC received two Excellence in Economic Development Awards this year, including top honors (gold) in the General Purpose Website category. The awards recognize the world's best economic development programs and partnerships, marketing materials and the year's most influential leaders.
Gold Award: General Purpose Website
AEDCweb.com Redesign
In 2014, AEDC embarked on a project to redesign AEDCweb.com. Our site has become a modern, innovative website with user experience at the forefront of our objectives that continues to evolve and improve.
Silver Award: Special Event
2014 Crowdfunding AK
Part of AEDC's 2014 Alaska Entrepreneurship Week, this event included a keynote presentation by Danae Ringlemann, co-founder of Indiegogo.com, the world's 2nd largest crowdfunding platform, as well as a panel of successful local crowdfunders.
Other Alaska recipients included the Alaska Division of Economic Development, the Alaska Industrial Development & Export Authority, Haa Aani Community Development Fund, Inc. and Huna Totem Corporation. AEDC is proud to be among the great Alaska organizations recognized this year and sends our congratulations to all recipients!