Last week AEDC President and CEO, Bill Popp, and AEDC Vice President, Jon Bittner, attended the International Economic Development Council (IEDC) Annual Conference in Philadelphia, Pa. AEDC was honored with three Awards of Excellence in Economic Development and two fDi American Cities of the Future awards. AEDC won Gold in the Special Events category for the Alaska Hackathon. AEDC won two Silver awards, one in the Magazine category for the 25th Anniversary magazine, published in partnership with the Alaska Journal of Commerce. The other Silver award was in the New Media category for our Digital E-Zines.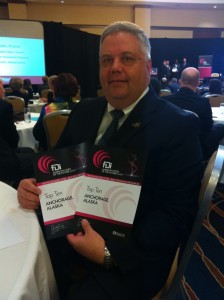 "The Excellence in Economic Development Awards recognize Anchorage Economic Development Corporation as being one of the leading organizations in the industry for innovation, creativity and successful strategies," said IEDC chair, Paul Krutko. "These awards are meant to honor the organizations and individuals who are dedicated to making a positive change in their communities. This organization uses creative solutions and inventive ideas, and offers other regions a wonderful example to learn and benefit from. The award represents an acknowledgment and appreciation for AEDC's dedication to continuous growth within itself, as well as improving the industry overall."
The two fDi (Foreign Direct Investment) awards recognized Anchorage as being in the Top Ten for Mid-Size Cities for the Best Human Resources and Best fDi Strategy.
In addition to bringing home awards, AEDC's Jon Bittner was asked to present on the award-winning Alaska Hackathon at the Conference. His presentation, "Hacking the Last Frontier," shared with the packed house at IEDC the methodology and outcomes of the Alaska Hackathons.
AEDC will be the host city for the IEDC Annual Conference in 2015. The conference has an average attendance more than 1,500 that range in profession from site selectors to other economic development organizations (EDO). The 2015 IEDC Annual Conference will be a great opportunity to showcase Anchorage and Alaska to a variety of businesses and industries.