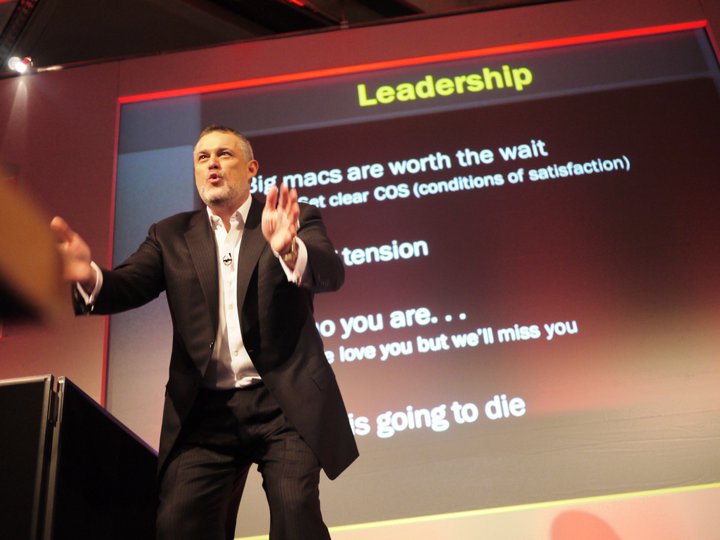 AEDC Communications Director Brooke Taylor sat down with Jeffrey Hayzlett, author, TV and radio host and Chairman of the C-Suite Network to discuss overcoming challenges and what can be learned from setbacks. The article will be featured in the 2016 Alaska Innovator magazine to be released at the 3-Year Economic Outlook Luncheon in July.
We took this opportunity to ask Mr. Hayzlett some additional questions to share with our Investors in a two-part series. Responses have been edited for clarity and length. This sneak peek of our July speaker is only available to AEDC Investors. If you missed Part I, you can check it out here.
Was there a time in your career where you overcame a great challenge?
When I stepped into my role at Eastman Kodak, a Fortune 100 company, I was sitting there looking and listening to all the problems going on and I was thinking someone should do something about this. I looked around the room and realized it was me. You have to come to the realization that it's just part of the process and that's what leaders do.
You were CMO at Kodak during what was potentially one of their most tumultuous times as a company. What did you learn from that experience and how did it shape your career?
Whether it's a business on Main Street or Wall Street there's really not much difference, other than zeroes. So the way in which you would look at your small business or your great big, huge billion-dollar business should be in much the same way. You always have to be innovative and you have to be searching for the things that could put you down or put you up. You want to look for the opportunities but you also want to look for the things that are going to make you a thing of the past; and make sure you're innovating, adapting and changing in order to make sure you're going to be successful.
Alaska is more focused than ever on finding ways to diversify its economy and find new industries that will offset declining oil revenues. How can Alaska position itself to take advantage of potential growth in other sectors?
I think Alaska is much like South Dakota in that we have an inferiority complex. We think of all the things we don't have rather than think of all the things we do have. I wish South Dakota was Alaska right now because you are hot. Every single show that's out there has an Alaska theme. "Buying Alaska," "Living in Alaska," "Gold Rush in Alaska," "Bering Sea Alaska." You should keep exporting that enthusiasm and energy and stepping into all the benefits that you have, so that everybody in the world knows it's the place to be. There is no other state, no other geographical location that has that many shows dedicated to its way of life. Looking at where Alaska is situated and the individuality of the people that make up that state; I think it plays well for recruiting people who want the clean air, clean water, clean lifestyle, unlike any other place in the world. Alaska has that and you should use your geographical location and everything else that makes you who you are to your advantage.