Education:
90 Percent By 2020 is working with Anchorage businesses, nonprofit organizations, service providers, the school district, community members and families to get better results for all of our kids. In the past decade, we've seen a steady increase in graduation rates in Anchorage, from 59% to 80%, and a groundswell in the community commitment to make sure our children and youth are supported and successful. Have you seen the new 90 Percent By 2020 video? If not, check it out here.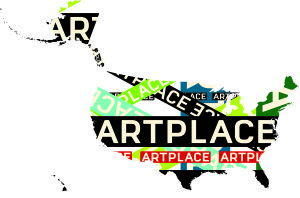 Cook Inlet Housing Authority (CIHA) has been awarded the ArtPlace America grant through the Community Development Investments (CDI) program. Over the course of three years, CIHA will receive $3 million to incorporate arts and cultural strategies into its core work by exploring new techniques for developing neighborhood revitalization work that brings arts and culture to the table at the planning stages. The ArtPlace America grant along with their ongoing support and partnership will allow CIHA to explore new and innovative ways of building community.
Click here to learn more about the Housing Area of Focus.
One Anchorage, One Economy:
On September 15, the AEDC Board of Directors sent a letter to the Anchorage Assembly supporting the LGBT equal rights ordinance which had been brought before them. On September 29, the equal rights ordinance was signed into law.
Trails Initiative: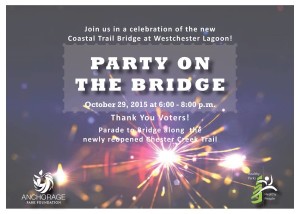 Save-the-Date: Party on the Bridge (Oct. 29) – Join the Anchorage Parks Foundation and Trails Initiative Area of Focus as we celebrate the new Coastal Trail Bridge at Westchester Lagoon! There will be a parade starting at Valley of the Moon Park that will lead to the bridge along the Chester Creek Trail. Local food truck vendors and a DJ set by Brendan Babb will add to the fun! Dress in your favorite Halloween costume for a chance to win a prize! Click or tap here for more information!
Schools on Trails is underway – Schools on Trails is a partnership effort between the Anchorage School District and the Anchorage Parks Foundation. Through this program, schools turn Anchorage's trails into walking classrooms, educating students on a variety of ways the trails can be useful to them and their families. For more information, contact Brendan Stuart at Brendan@AnchorageParkFoundation.org.
Balto Seppela Park Ribbon Cutting (Nov. 5) – Celebrating the new Iditarod learning loop trail with educational new signs! Chaperones needed for this event!  If you want to join a group of first graders as they walk the 0.5 mile trail from Turnagain Elementary School to Balto Seppela Park for this event, please email Brendan@AnchorageParkFoundation.org