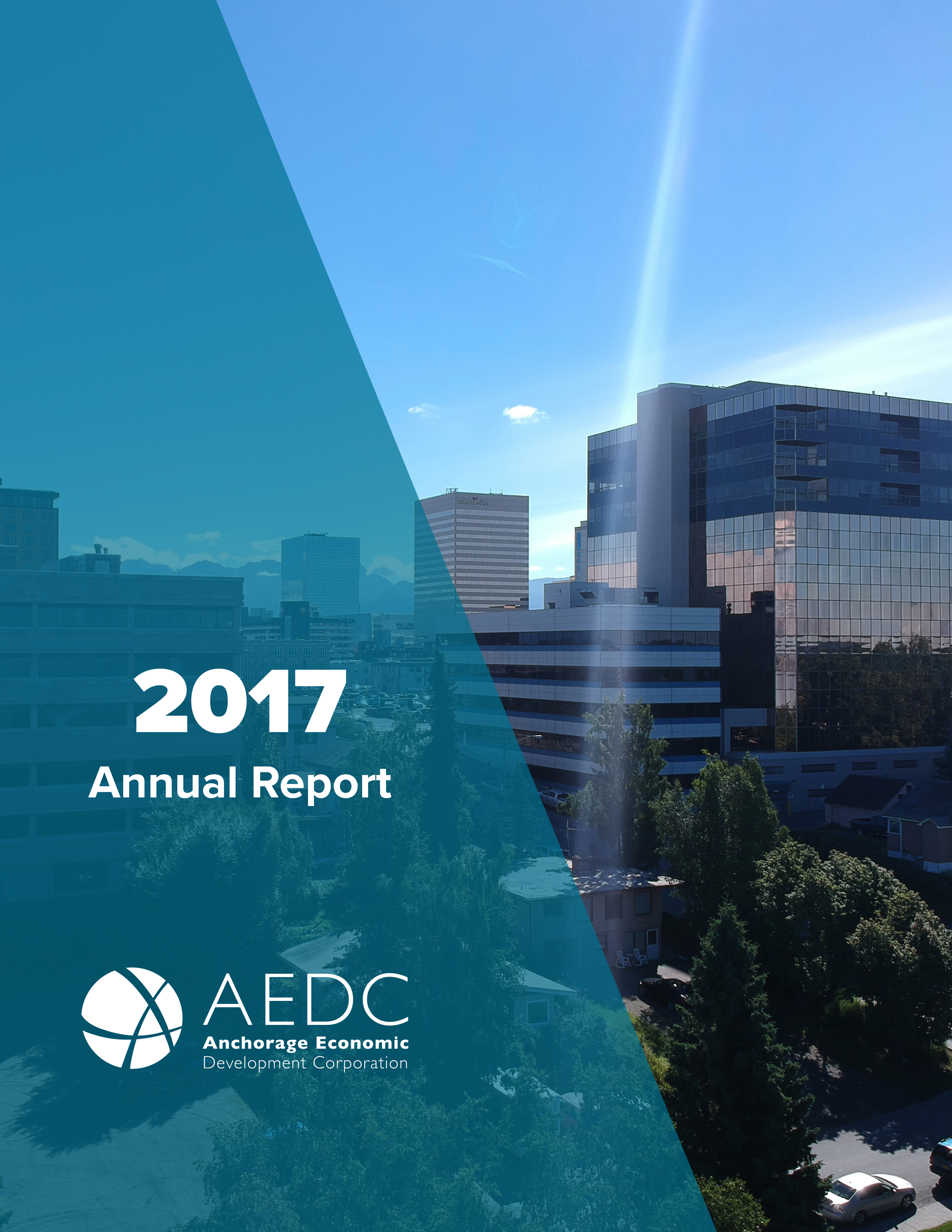 The past few years have been tough for Anchorage, but thankfully things started to look up in late 2017 with overall job losses moderating. Our current situation is the first recession our city has seen since the mid-1980s and has caused issues that Anchorage residents have not had to deal with in decades. Although today's recession is considerably milder than the previous recession that resulted in 10 percent of the total jobs being lost in Anchorage, the loss of 1.5 percent of total jobs in 2017 was felt across Anchorage's economy.
AEDC has worked even tirelessly to arm Anchorage residents and the business community with factual economic
information so community leaders and citizens of Anchorage can advocate for sound decision making in the face of the ongoing recession. You'll see the results of these efforts in the number and scope of the reports AEDC produced, and our myriad initiatives championed in 2017.
With over 200 volunteers and nearly 160 partner businesses, organizations and agencies, Live. Work. Play. achieved marked progress in its efforts to make Anchorage a city in which people would want to invest and live. From working with other organizations on a plan to make building small-scale housing more accessible to helping make trails safer and more pleasant, AEDC remains very confident that we can succeed in addressing the many challenges our city must overcome to achieve the Live. Work. Play. vision.
AEDC's continued focus on the Ted Stevens Anchorage International Airport as a pivotal element in the future success of the Anchorage economy remained front and center in 2017. The Alaska AeroNexus® Alliance was a major step forward in growing the partnership between the Municipality of Anchorage, the Alaska International Airport System and AEDC. AEDC continued to assist new and existing businesses in 2017 by providing advice and support to 127 businesses. We've worked to expand our reporting offerings to businesses so that they feel confident in their investments – because investment is crucial for our economy right now. The Anchorage Comprehensive Economic Development Strategy (ACEDS), a partnership between the Municipality of Anchorage, Northrim Bank, the Port of Alaska and AEDC will be approved by the appropriate parties in Spring of 2018 and implemented later in the year – providing Anchorage with much-needed direction to diversify and grow its economy. The ACEDS will put into place vital strategies for growing the Anchorage economy in the years to come.
Although the past few years have been tough – AEDC, our Board of Directors and our Investors Council look forward to what the future may bring for Anchorage. Our mission to grow and diversify the Anchorage economy is still forefront and we're working to make changes every day.