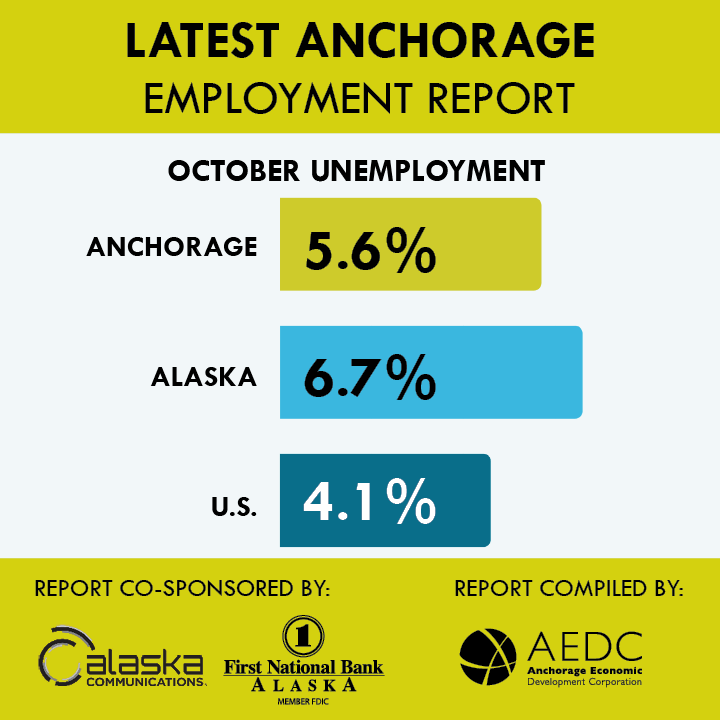 The not seasonally adjusted preliminary unemployment rate for Anchorage in October was 5.6 percent, down 0.2 percent compared to the September revised rate. This is 1.7 percent above the national not seasonally adjusted rate of 3.9 percent and 1.1 percent below the statewide not seasonally adjusted rate of 6.7 percent. The October unemployment rate for Anchorage was 0.5 percent higher than it was in October 2016. As always, it should be noted that these are preliminary survey figures for September and will be revised next month.
The Anchorage 2017 average year-to-date (YTD) not seasonally adjusted unemployment rate remains at 5.7 percent at the end of October, 0.4 percent higher than at this time last year. An increase of 1,605 in the employment total and an increase of 2,344 in the Anchorage labor force during the YTD period has resulted in the reported unemployment total increasing by 738. The total number of unemployed people in Anchorage for the month of October is estimated at 8,867 (those actively looking for jobs), 983 more than October 2016.
As for Anchorage industry employment estimates, which includes total jobs in Anchorage held by city residents and commuters, the YTD average through October for 2017 shows a loss of 2,800 jobs (-1.8 percent) so far compared to the same period in 2016. The private sector (total jobs minus government jobs) at 123,500 jobs shrunk by 2,500 (-2.0 percent) jobs during this time, while Government employment at 28,700 jobs has decreased by 300 (-1.0 percent). Federal jobs decreased by 100 (-1.2 percent). State government jobs have decreased by 300 (-2.9 percent) and Local Govern­ment jobs have increased by 200 (+2.0 percent).
AEDC's employment reports are generously co-sponsored by First National Bank Alaska and Alaska Communications.