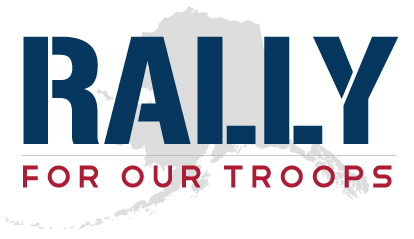 Thank you for helping Rally For Our Troops!
Date: Feb. 23, 2015
Time: 5 – 6 p.m.
Location: Dena'ina Civic & Convention Center
Show your support!
Live Music from the Carhartt Brothers
Clark Middle School Drumline
FREE to the public
Listening Session: Begins at 6 p.m.
Thank you to everyone who came to Rally For Our Troops on Feb. 23 at the Dena'ina Center. More than 500 people came to the Rally to show their support for our troops. Following the Rally, a Listening Session was held. Government, business and community leaders addressed the visiting Department of Army delegation, sharing with them information on key programs, partnerships, infrastructure and the broad support and quality of life our community provides for the Army in Anchorage and Alaska. In addition, members of the public testified, sharing their support for the military based here. The visiting delegation was tasked with gauging the level of support in our community for the Army and reporting back to the Pentagon. Our community "impressed" the delegation with the large showing of supporters, and the enthusiasm our community has for our military troops in Alaska.
The Department of Army will announce their decisions in two parts. The first announcement will be in June 2015. The second announcement will be in 2016.
If you are interested in reading more about the Rally and Listening Session, here are a couple links of interest:
Alaska Public Media: http://www.alaskapublic.org/2015/02/24/with-troop-cuts-looming-anchorage-officials-turn-out-crowd/
Alaska Dispatch News: http://www.adn.com/article/20150223/listening-session-and-rally-over-proposed-alaska-army-cuts-draws-hundreds
The situation: The U.S. Army is tasked to reduce its personnel. The first round of reductions must be made by 2017, and two brigade combat teams in Alaska are being considered. On Feb. 23, a delegation of military officials is traveling to Alaska to learn more about brigade combat teams at JBER and Fort Wainwright. If a decision is made to dissolve the 4th Brigade Combat Team, 25th Infantry Division at JBER, Anchorage could lose more than 5,300 military personnel with more than 8,900 dependents. These are our neighbors and friends. The impact to the community would include a loss of hundreds of millions of dollars in the local economy, jobs, workforce and more.
How you can help: Join together as a community for the Rally For Our Troops event on Feb. 23 at the Dena'ina Civic & Convention Center in downtown Anchorage. The military leaders will be attending a Listening Session at the Dena'ina. We need to show them our affection for and appreciation of armed forces stationed in Alaska. The rally will take place from 5 – 6 p.m. This is our opportunity to demonstrate how much we, as a community, value and appreciate the military.
---
 Special Make it Monday Lunch Forum
Anchorage Chamber of Commerce, Alaska Chamber and Chugiak-Eagle River Chamber of Commerce are co-hosting a Special Make it Monday Forum that will host the visiting military officials and will discuss the potential impacts of the Army Force Reduction in Alaska. The event runs from 11:30 a.m. – 1 p.m. on Feb. 23 at the Dena'ina Center. Learn more and purchase tickets >> click here.
---