Kulis Business Park
Ted Stevens Anchorage International Airport (ANC) has additional land and buildings now available for lease at the former Kulis Air National Guard Base. The property is located on the south side of ANC and is accessed via Raspberry Road. Owned by the State of Alaska, the parcel totals 129 acres.
The Air National Guard operated Kulis on the site from the 1950's until February, 2011, when the Air National Guard's operations were relocated to Joint Base Elmendorf-Richardson (JBER) as part of a Base Realignment and Closure (BRAC) action.
The State of Alaska received the property in October, 2011, and has been preparing it for lease over the last eight months. Approximately 230,000 square feet of building space is available for lease. This includes three C130 hangars, four office buildings, and a large warehouse. Existing improvements also include approximately 15 acres of aircraft parking apron and three acres of vehicle parking lots. The State is working with the Federal Aviation Administration (FAA) to designate approximately half of the land as non-aeronautical to improve the leasing potential of four office-type buildings on uplands near Raspberry Road.
To contact TSAIA directly about Kulis properties, email TSAIA Leasing Officer II Tonia Winkler at tonia.winkler@alaska.gov.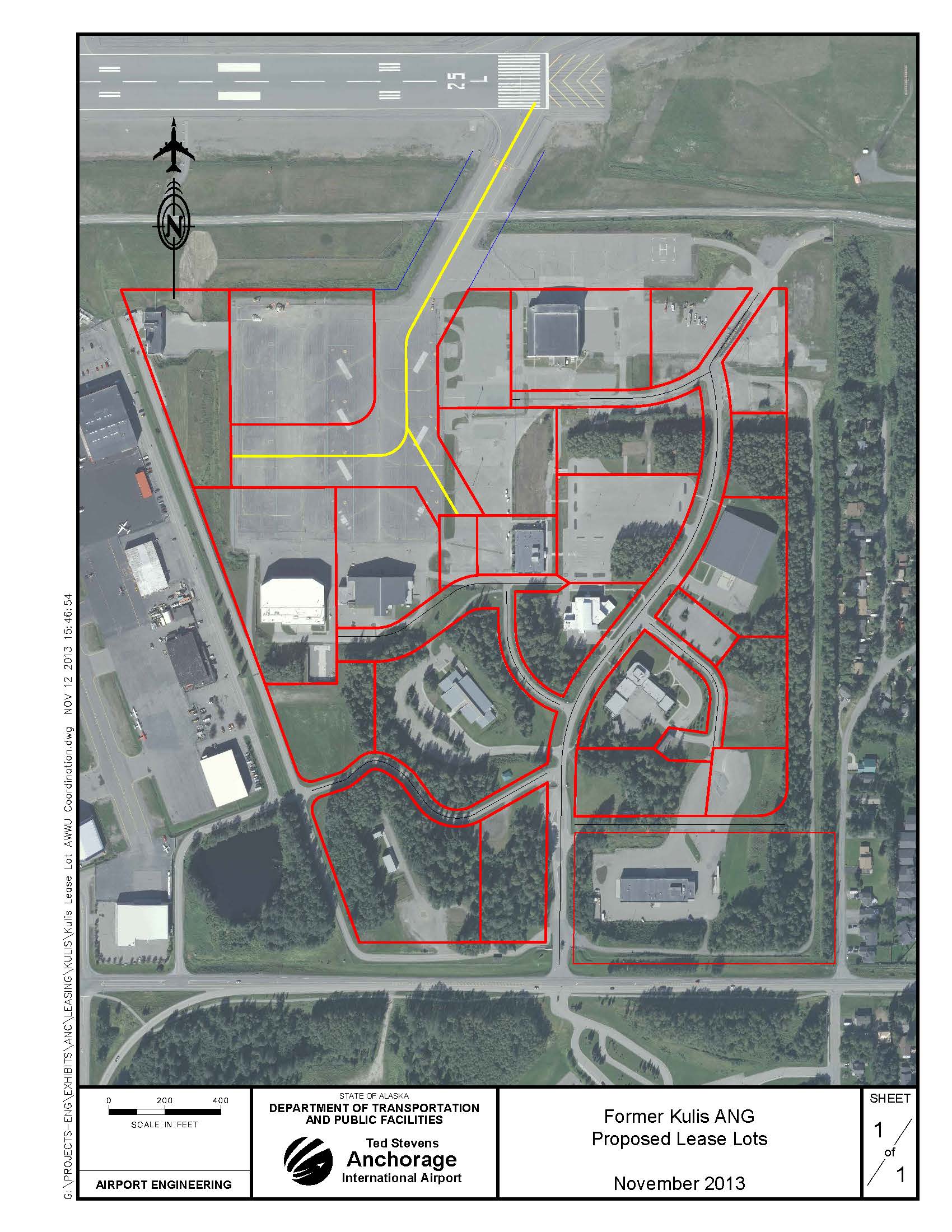 Click on the titles of any of the below property listings for more information.
Size: 16,285 square feet – building, 60,642 square feet – lot
Building type: Aircraft terminal, Office
Sale price: $775,000.00
Monthly lease rate: $0.80 per square foot
Size: 25,747 square feet
Building Type: Warehouse/Distribution
Sale Price: $1,246,000.00
Monthly Lease Rate: $0.80 per square foot
Size: 24,063 square feet
Building Type: Warehouse/Distribution
Sale Price: $1,368,000.00
Monthly Lease Rate: $0.89 per square foot
Economic Zone Map
The Economic Zone Map shows just a fraction of the development possibilities ANC has to offer. The zones outlined here help businesses envision the wide variety of operations ANC can host, rather than acting as a formal land-use map.
For a more detailed understanding of where your business could locate at ANC, please contact Marc La Rose, Leasing Manager at marc.larose@alaska.gov