AEDC Voice
Webinar Series
AEDC Voice is a webinar series hosted the second Wednesday of every month by the Anchorage Economic Development Corporation (AEDC), sponsored by Alaska Executive Search and Bradison Management Group. The series will consist of a deeper dive into AEDC reports and interviews with key business leaders from different industry sectors that will provide an opportunity for AEDC investor companies to gain better insights into important companies, business leaders, and industry trends.
To learn more or inquire about presenting, please contact Development Director Kate Matheson at development@aedcweb.com.
Past Webinars
For access to the webinar recordings, please visit your membership portal or contact Kate Matheson at kmatheson@aedcweb.com.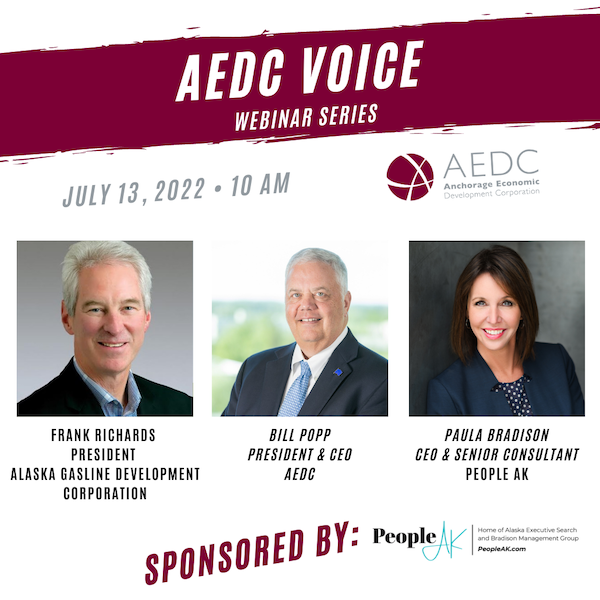 The July AEDC Voice webinar featured Frank Richards, the President of Alaska Gasline Development Corporation. As President, Mr. Richards  is responsible for the development and execution of the Alaska LNG Project, including project organization and development, employing established industry standards and project management principles.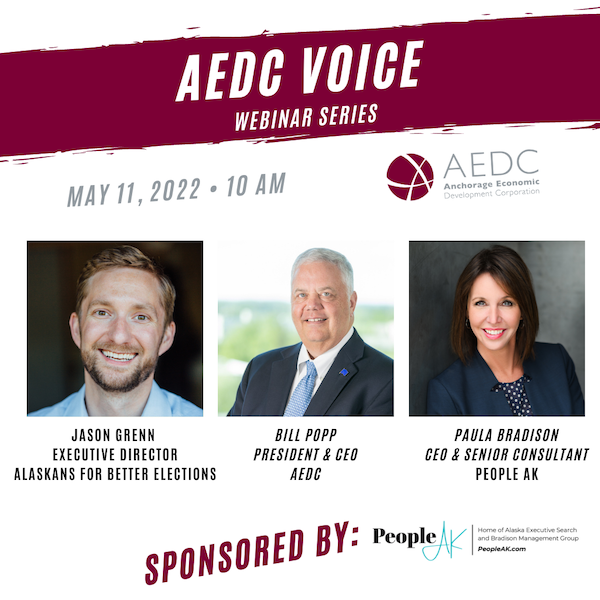 The May webinar featured Jason Grenn, the executive director for Alaskans for Better Elections. With Alaska's elections changing this year, this installment of the AEDC Voice included discussion on the top 4 primary and upcoming ranked choice voting in state elections during the summer and fall.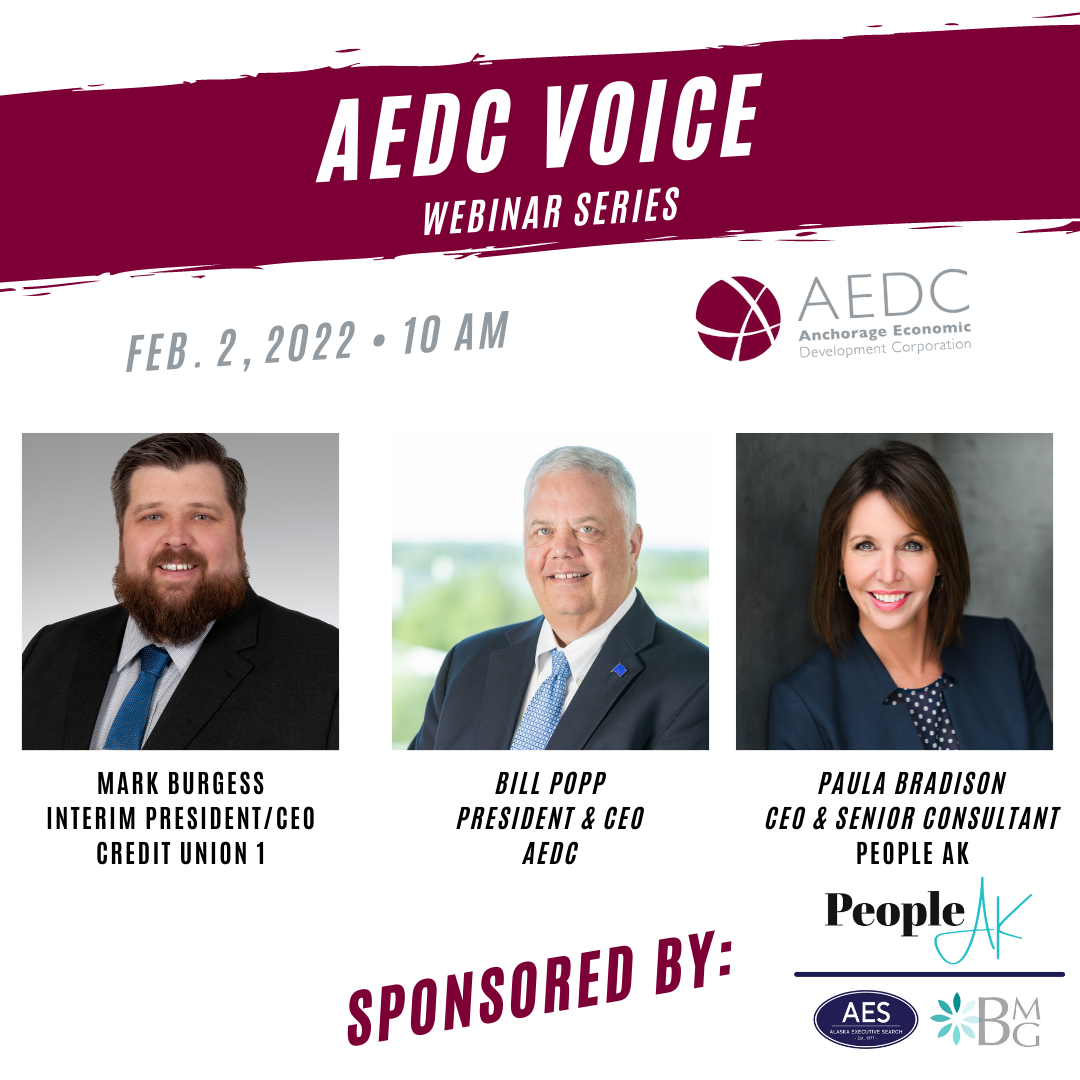 The February webinar featured Mark Burgess, the Interim President/CEO and Chief Technology Officer of Credit Union 1. Prior to joining Credit Union 1 in 2018, Mark served as Vice President of Customer Success for SilverCloud, a technology organization with which he helped various nationwide credit unions manage their policies and procedures. He also has experience in IT and infrastructure for a consulting agency that worked with nonprofits who serve at-risk populations. As Interim President/CEO and CTO at Credit Union 1, Mark is uniquely in tune with the technology that drives this organization and its focus on enhancing the member experience.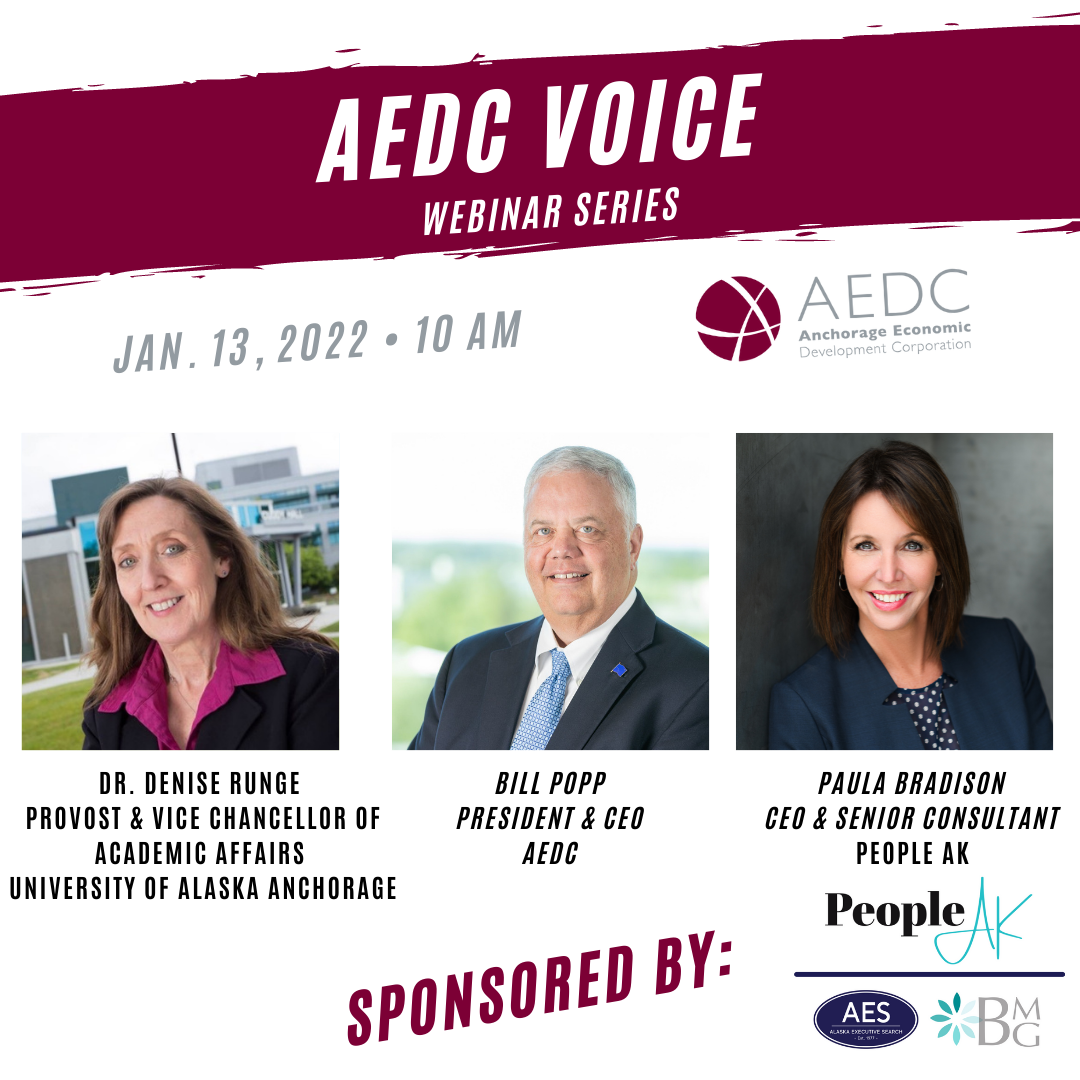 The January webinar featured Dr. Denise Runge, the Provost and Vice Chancellor of Academic Affairs at the University of Alaska Anchorage. She previously served as UAA's Dean of the Community & Technical College.  With over 25 years of experience in higher education as a faculty member, Dean, and senior administrator in four states, Denise brings a particular focus on collaboration, improving student access and success, and aligning educational programs to local needs. Dr. Runge holds a Ph.D. in Public Policy & Administration from the University of Alabama, and has written and lectured internationally on state, commercial, and Native gambling policies and their impacts.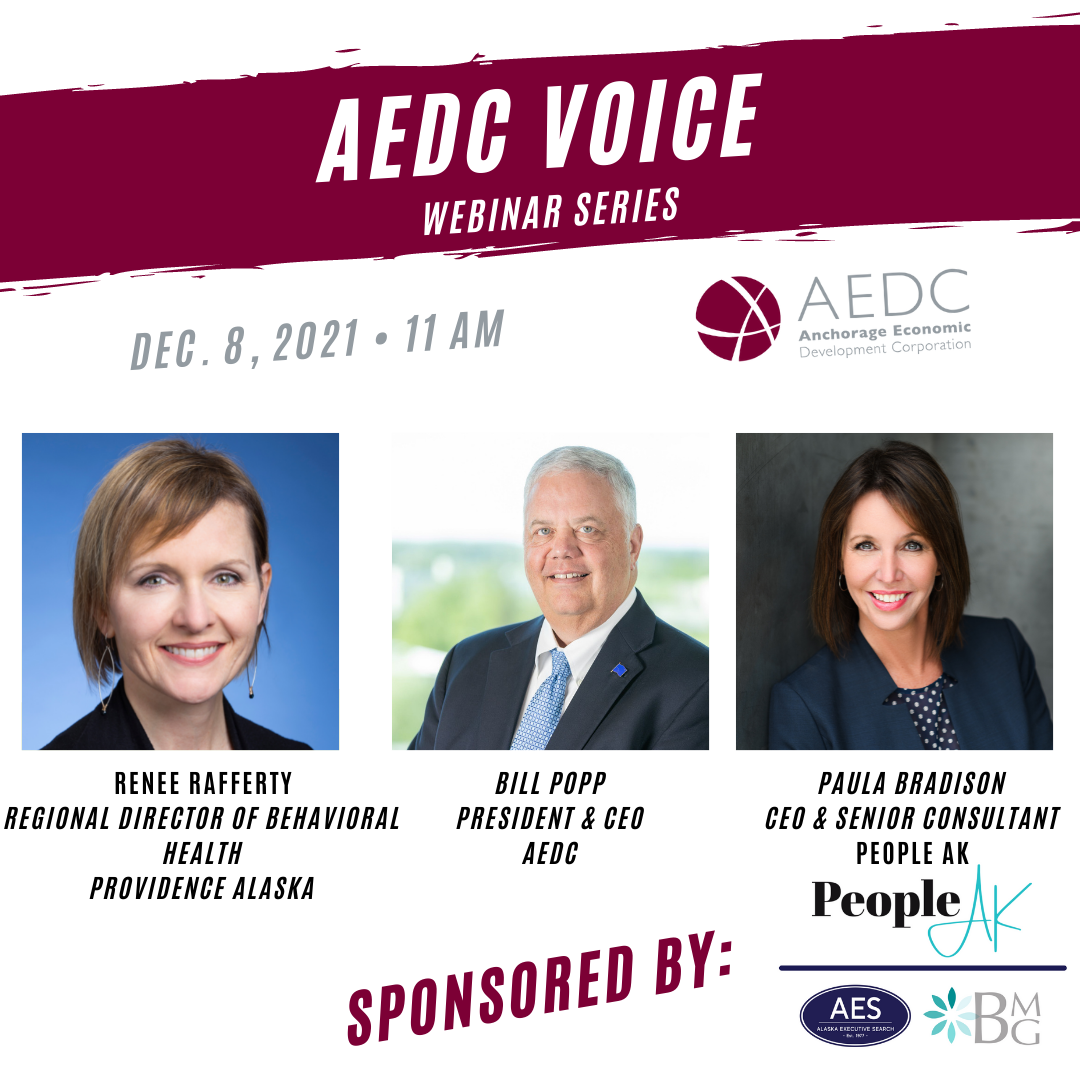 The December webinar featured Renee Rafferty, regional director of behavioral health at Providence Alaska and shared insights on Providence's behavioral health strategy for Alaska's children, including the importance of investing in the health of our children and families through behavioral health integration within the academic environment, highlighting early intervention and prevention as a key strategy for increasing the health of the community through the pandemic and beyond.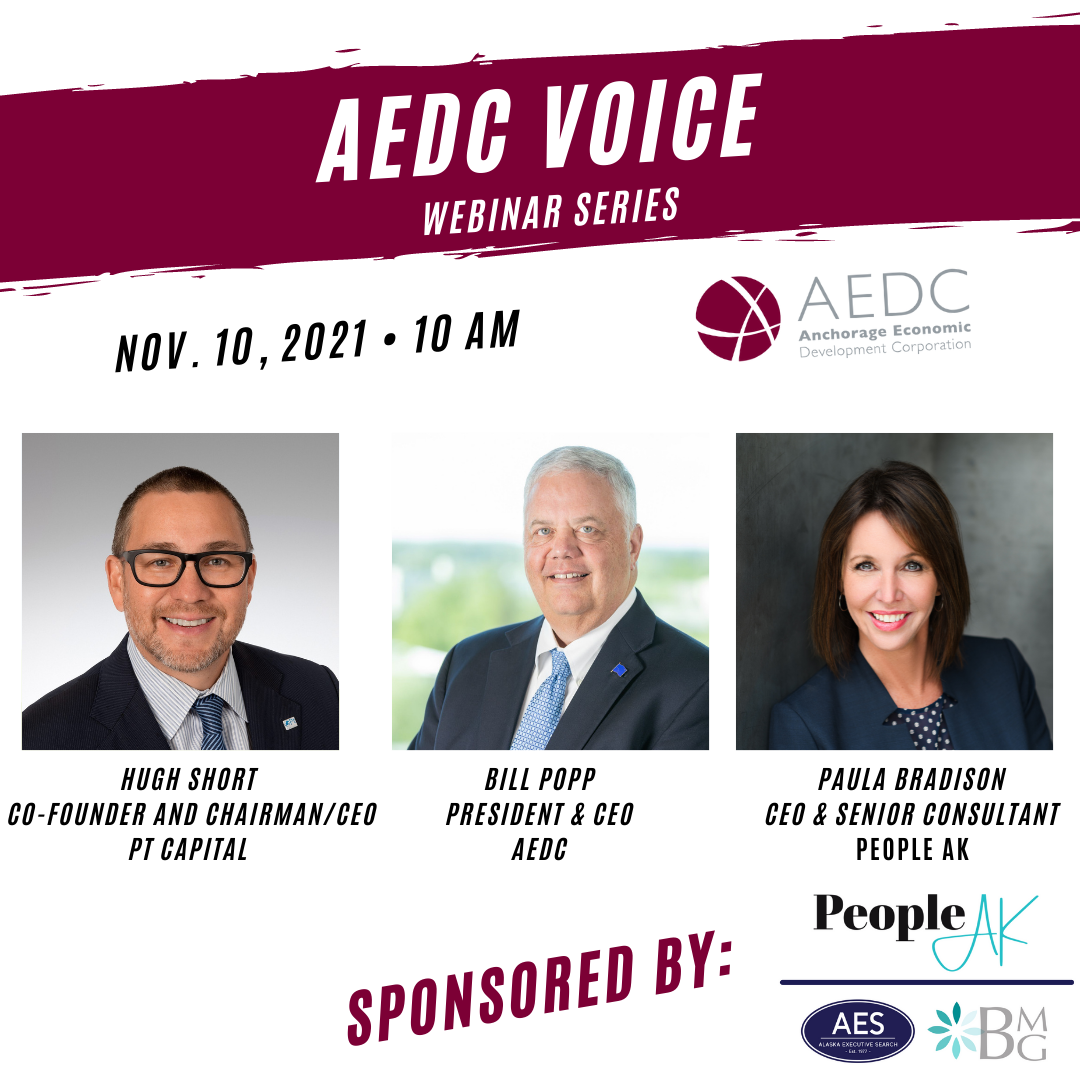 The November webinar featured Hugh Short of Pt Capital, discussing COVID-19's impact on the business world, the trends developing as a result and how they relate to the Alaska economy. In addition, Short provided insight into successfully managing a portfolio of assets that represent tourism, technology and energy services sectors during the unprecedented times we have been living through.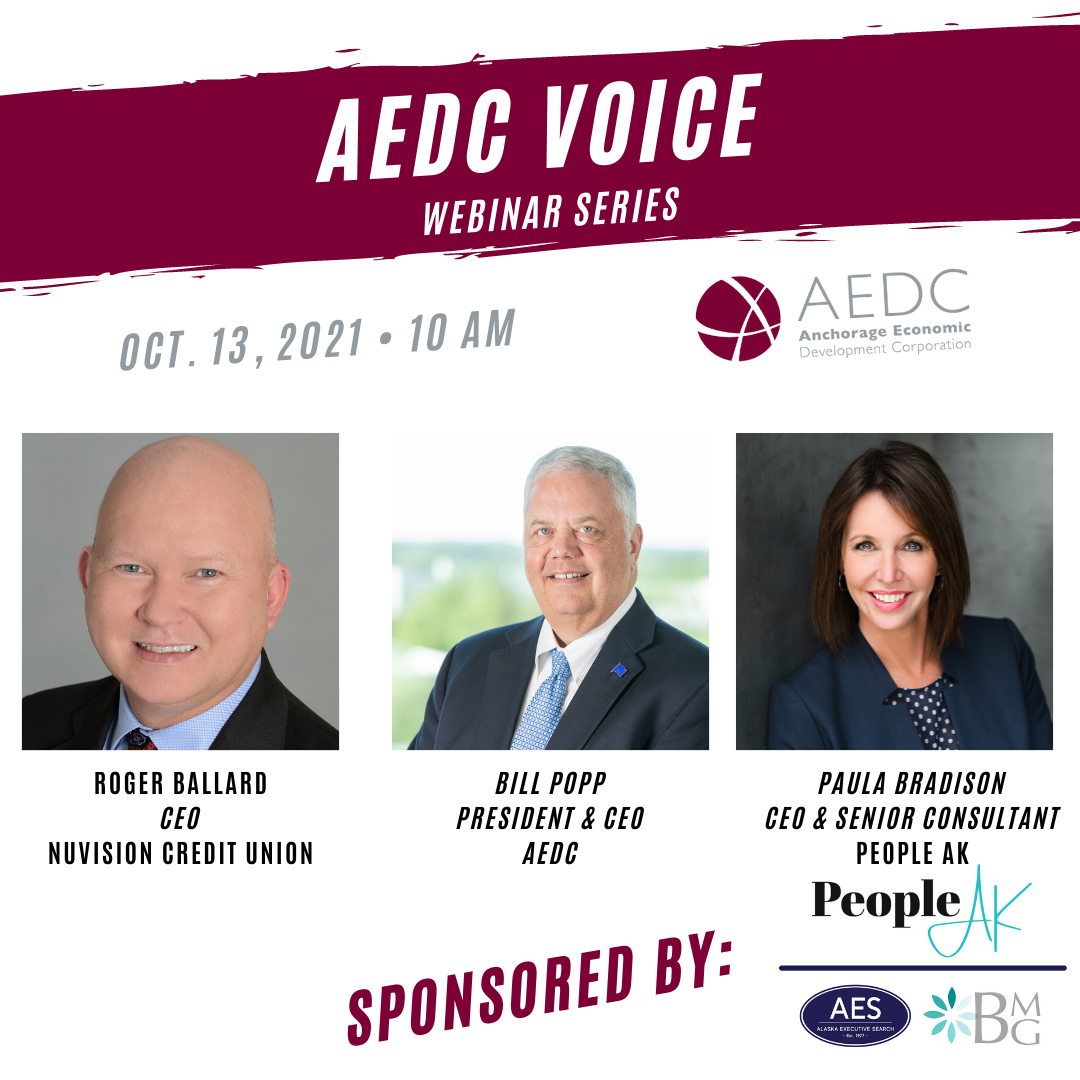 The October webinar featured Nuvision CEO Roger Ballard introducing Nuvision Credit Union Alaska, the result of a recent merger with Denali Federal Credit Union. With a behind-the-scenes look at merging with a credit union with a more than 70-history of serving Alaskans, Ballard discusses the challenges and opportunities managed along the way. He shares Nuvision's commitment in Alaska and provides insight to the credit union's investment in community and members.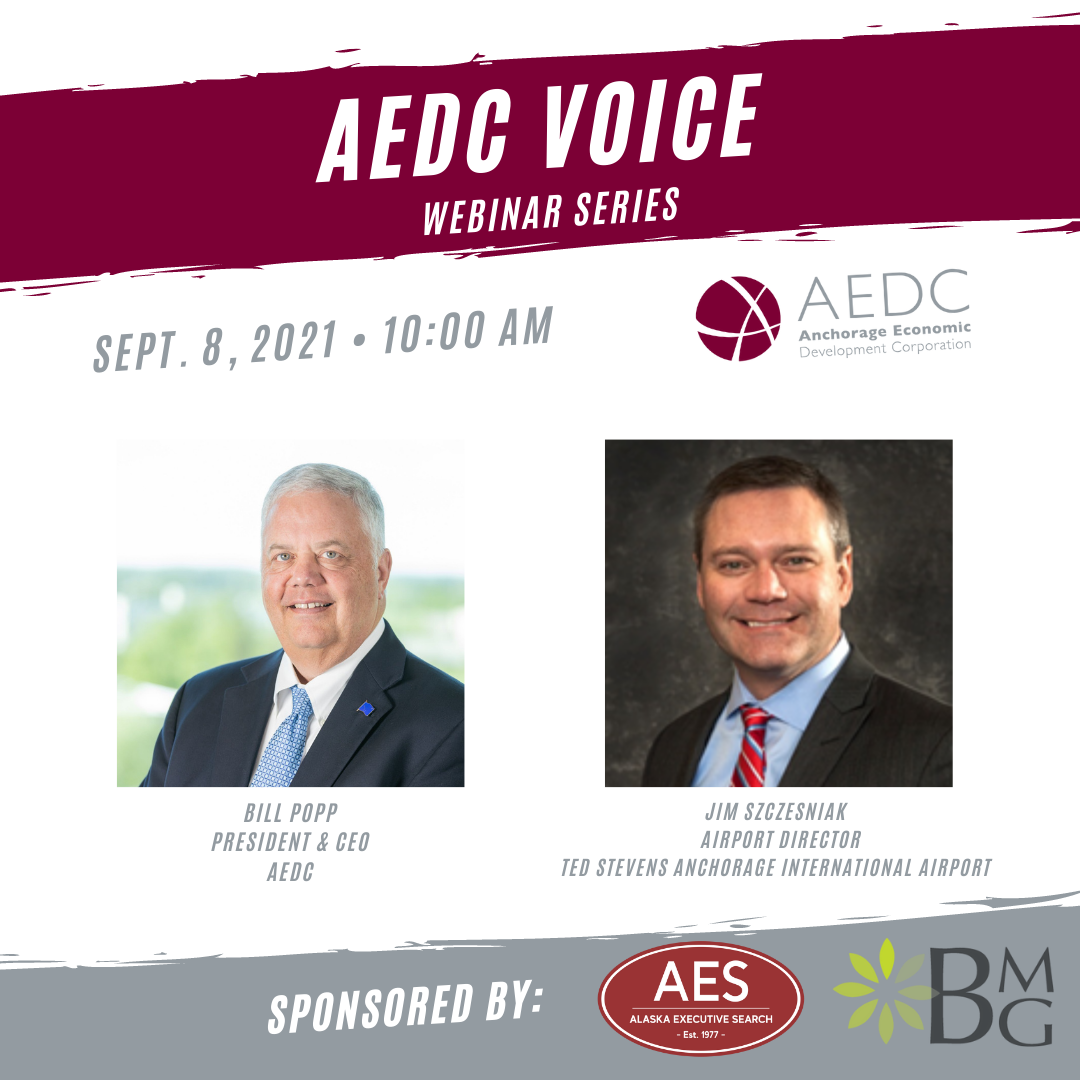 The August webinar featured Jim Szczesniak, Airport Director at the Ted Stevens Anchorage International Airport (ANC), will discuss what he sees as the future of passenger service for ANC, review the summer of 2021 and what the announcement of Northern Pacific Airways means. Szczesniak will also discuss how the air cargo industry is changing and how ANC is preparing for future air cargo growth, including how a new method of shipping, AKSpeed, can allow ANC to capture more cargo from the ocean freight market.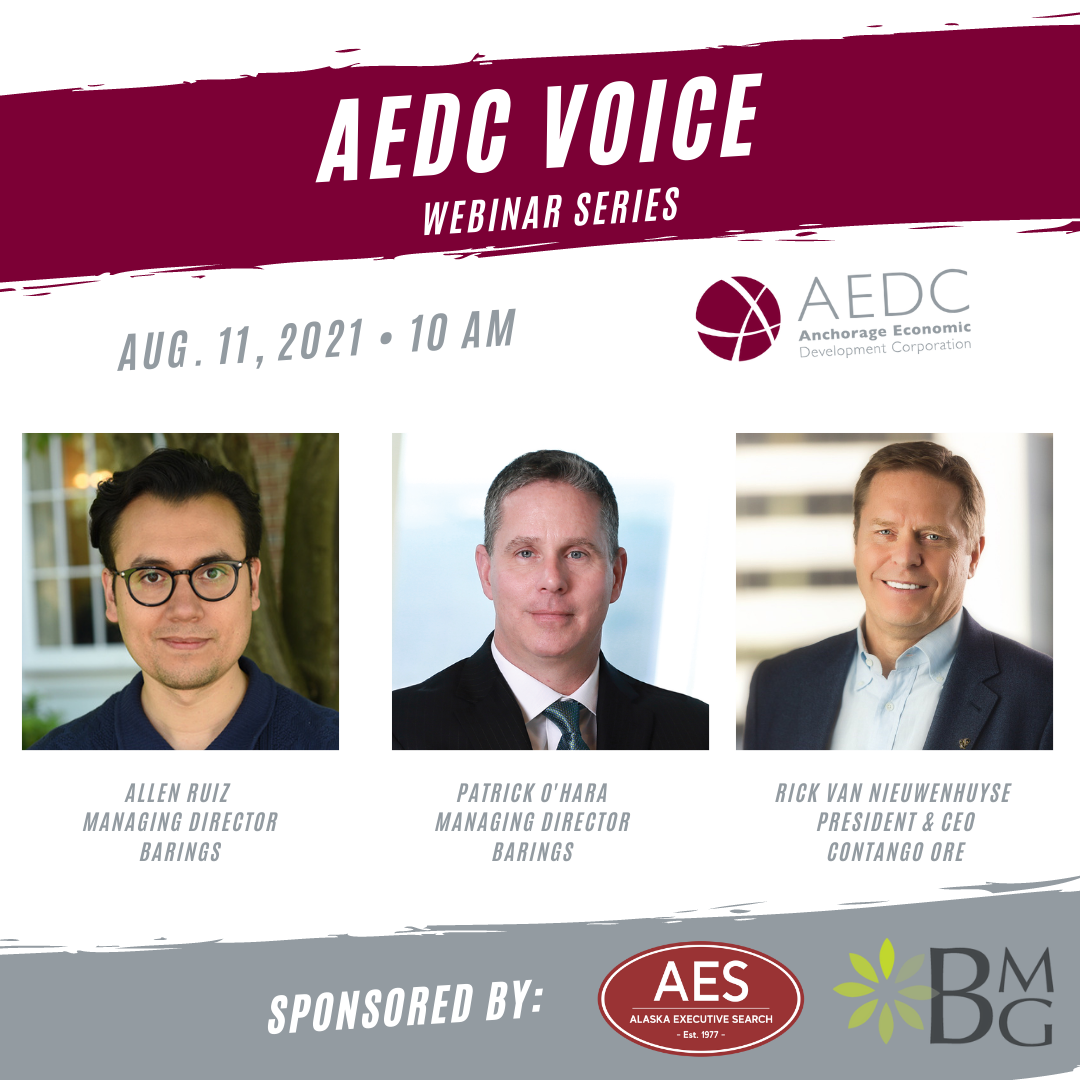 The August webinar featured Allen Ruiz and Patrick O'Hara of Barings providing an overview of its Alaska in-state program (the Alaska Future Fund or "AFF"). Barings was joined by Rick Van Nieuwenhuyse, President and CEO of Contango ORE, Inc. (a recent AFF investment), to provide an overview of the Metals and Mining industry in Alaska.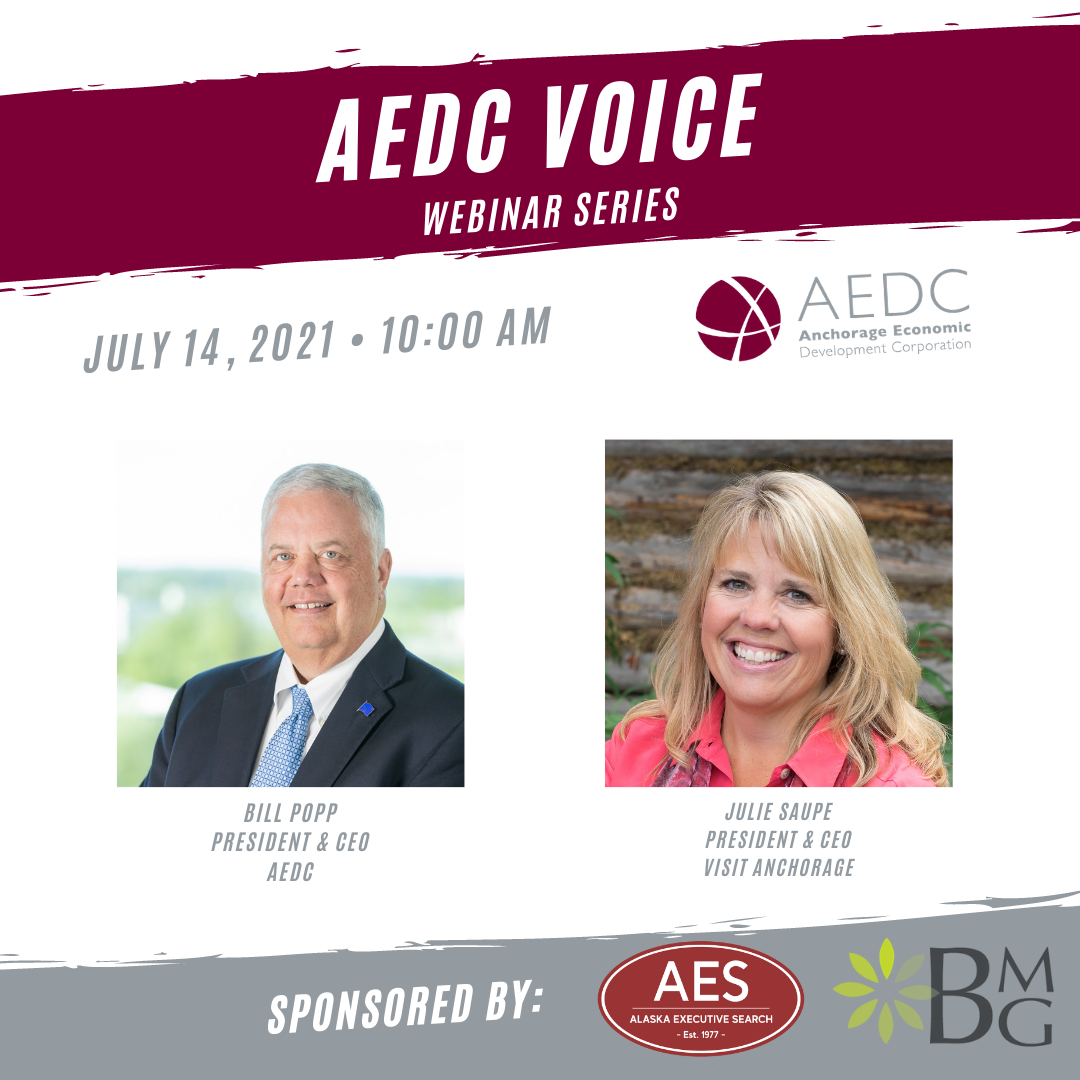 The July webinar featured Julie Saupe, CEO, Visit Anchorage. Saupe provided a midsummer snapshot of tourism's progress on the path to recovery. She also discussed the challenges still facing the industry in the aftermath of the pandemic, consider trends and early-season outcomes for Anchorage from travel, and look beyond 2021 to identify long-term needs and initiatives to keep Anchorage at the top of the traveling public's desires.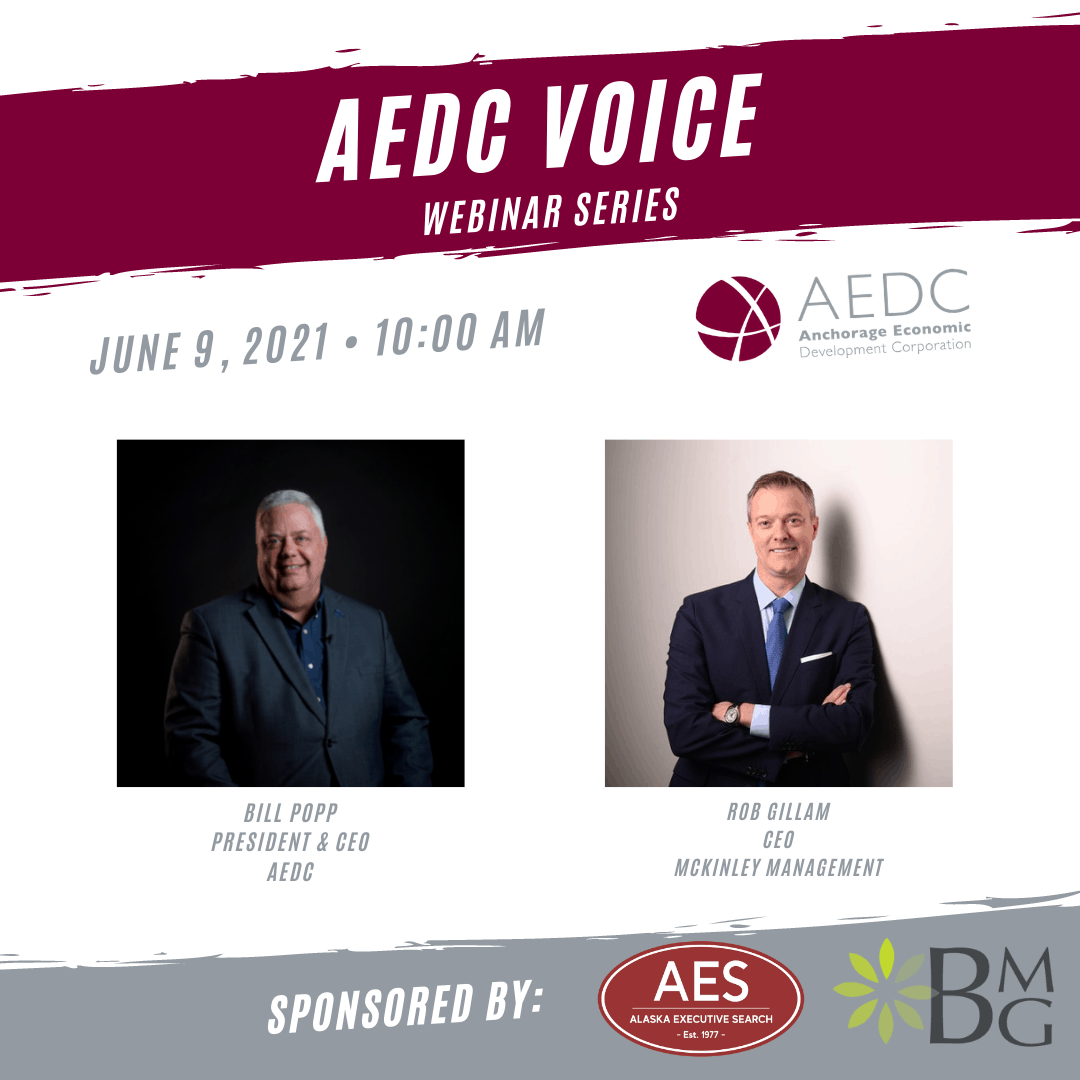 The June webinar featured Rob Gillam, CEO, McKinley Management. Gillam's presentation focused on private investment opportunities in Alaska. He discussed why global investors are interested in Alaska and how private investment can benefit the state. Gillam also provided an overview of the work being done through McKinley Alaska Private Investment, LLC.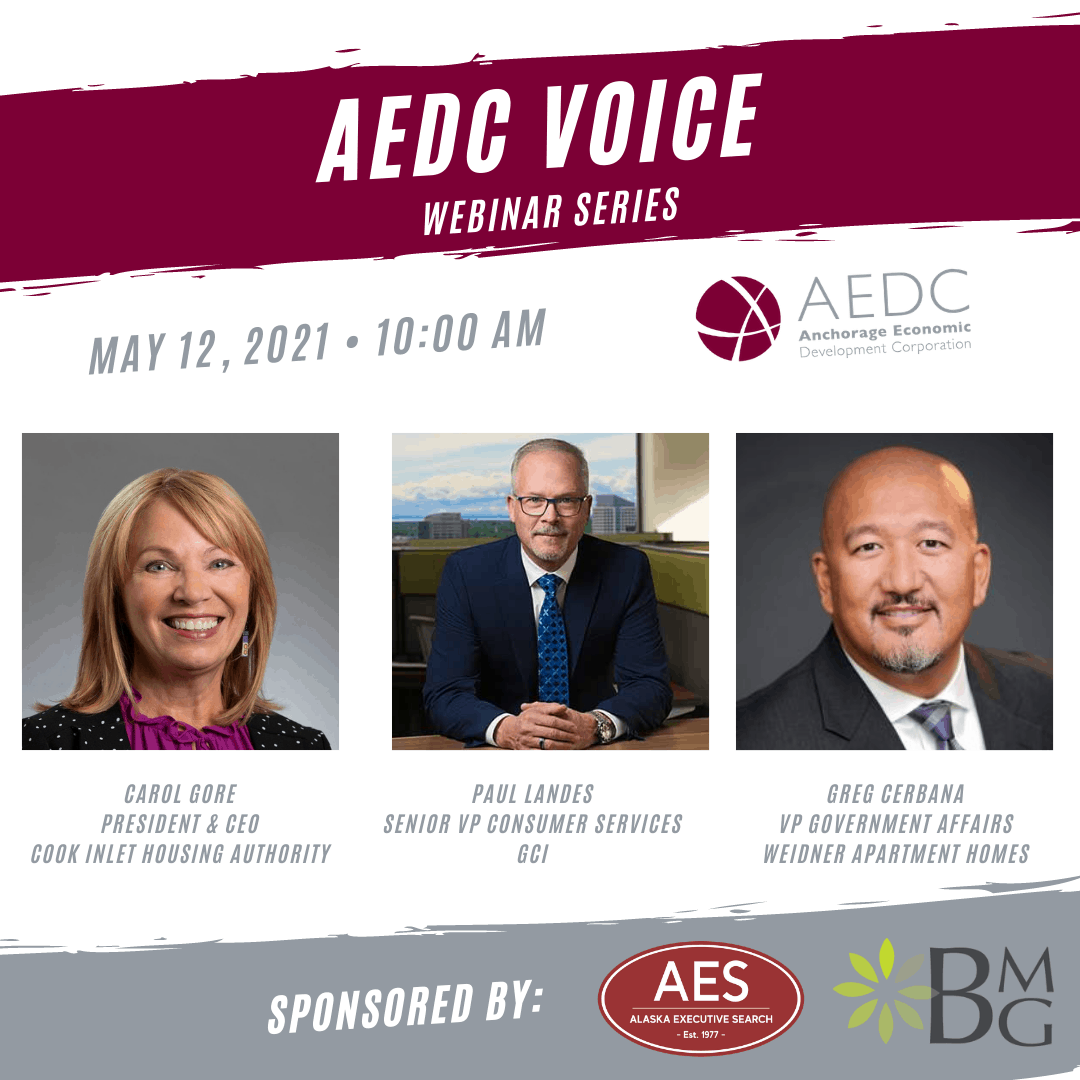 The May webinar featured the Anchorage Homelessness Leadership Council. HLC is a group of 11 Alaska business leaders, representing some of the largest companies in the city, providing their expertise, resources and time to advance solutions to eliminate homelessness. HLC members featured on this month's AEDC Voice are Carol Gore, president and CEO of Cook Inlet Housing Authority; Paul Landes, senior vice president of GCI; and Greg Cerbana, vice president at Weidner Apartment Homes.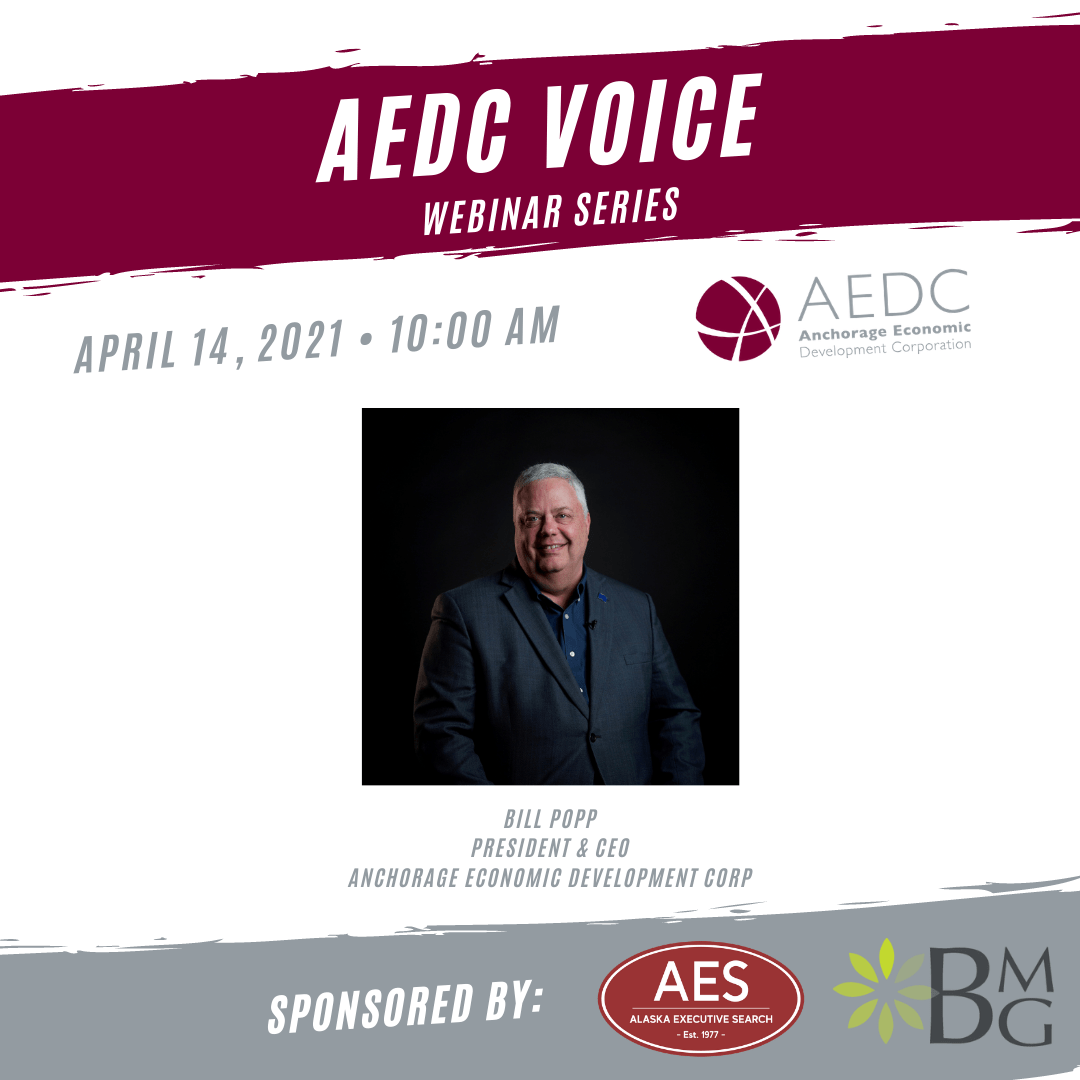 The April webinar featured Bill Popp, AEDC President & CEO. Popp's presentation included a recap of reports and trends from the 2021 Economic Forecast Luncheon earlier in the year, with updated analysis on current conditions and what to expect for 2021.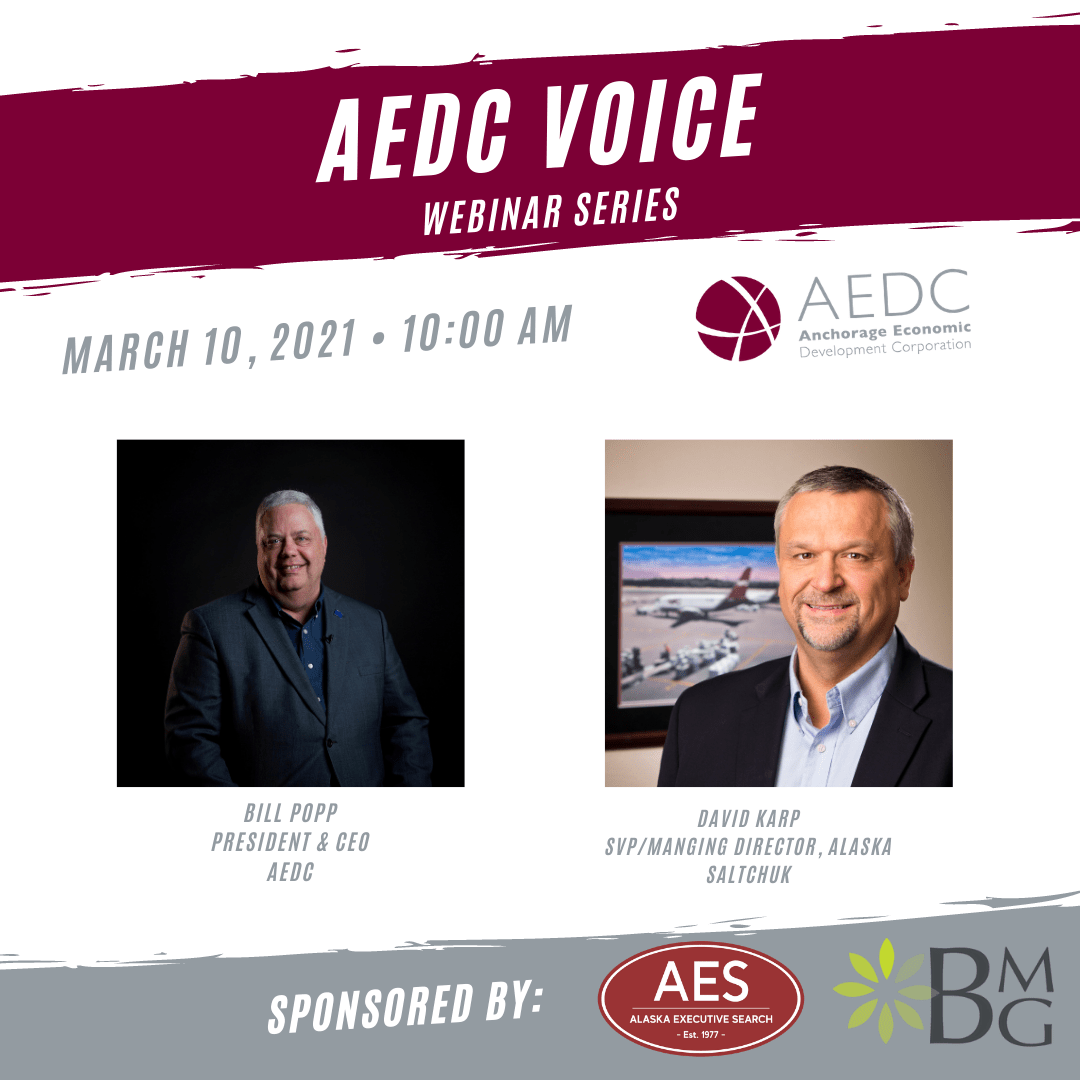 The March webinar featured Dave Karp, Senior Vice President & Managing Director for Saltchuk Alaska.  Dave's presentation provided an overview of Saltchuk as a global company, with specific information on the company's Alaska operating footprint, employment impacts, corporate citizenship and role in the overall economy.  He also shared thoughts on the impact of the pandemic and the company's general outlook for future.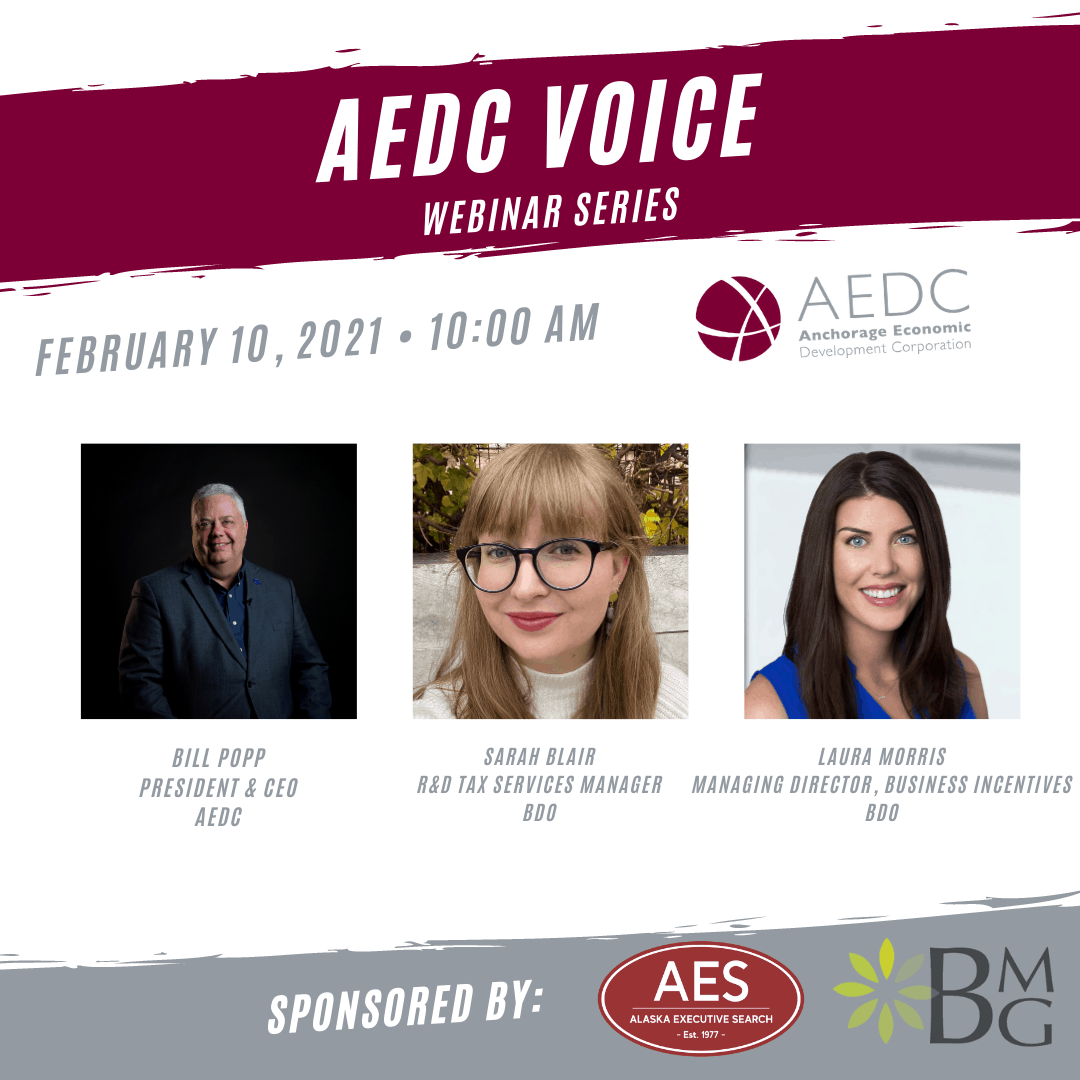 The February Webinar featured Sarah Blair and Laura Morris of BDO talking about The Employee Retention Credit. The "ERC" was significantly expanded and extended as a part of the Consolidated Appropriations Act, 2021. The ERC is a refundable payroll tax credit for wages paid and health coverage provided by an employer whose operations were either fully or partially suspended due to a COVID-19-related governmental order or that experienced a significant reduction in gross receipts. Notably, the Act made a retroactive change to the ERC, applicable from March 13, 2020, that may allow employers that received PPP loans may qualify for the ERC with respect to wages that are not paid with proceeds from a forgiven PPP loan.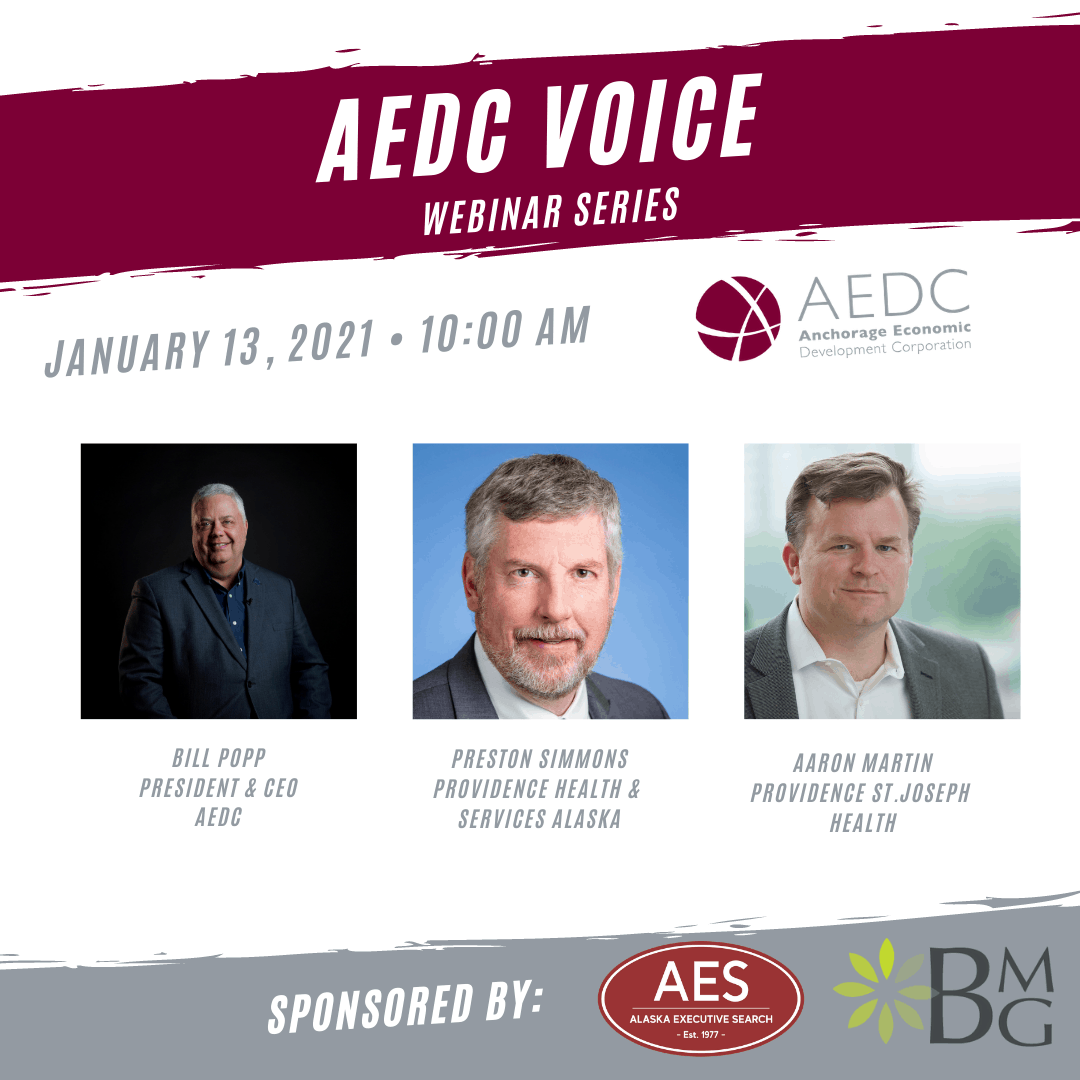 The January webinar featured Preston Simmons, Chief Executive of Providence Health & Services Alaska and Aaron Martin, Executive Vice President and Chief Digital Officer for Providence St. Joseph Health. The discussion focused on innovation in the delivery of health care post-COVID-19.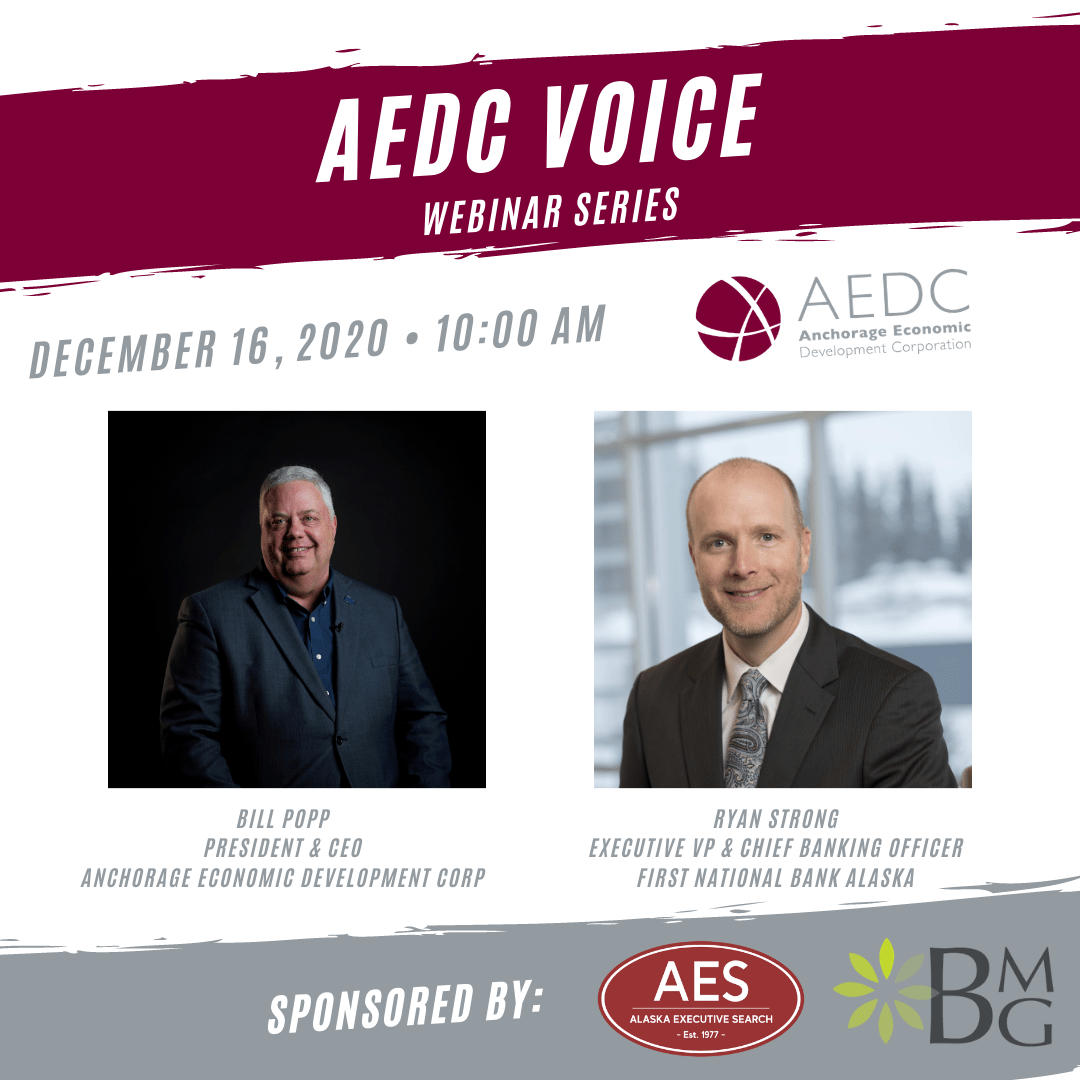 The December webinar featured Ryan Strong, Executive Vice President and Chief Banking Officer at First National Bank Alaska (FNBA). The presentation gives an overview of FNBA, how COVID has affected the banking industry and what Strong sees as the state moves toward into recovery.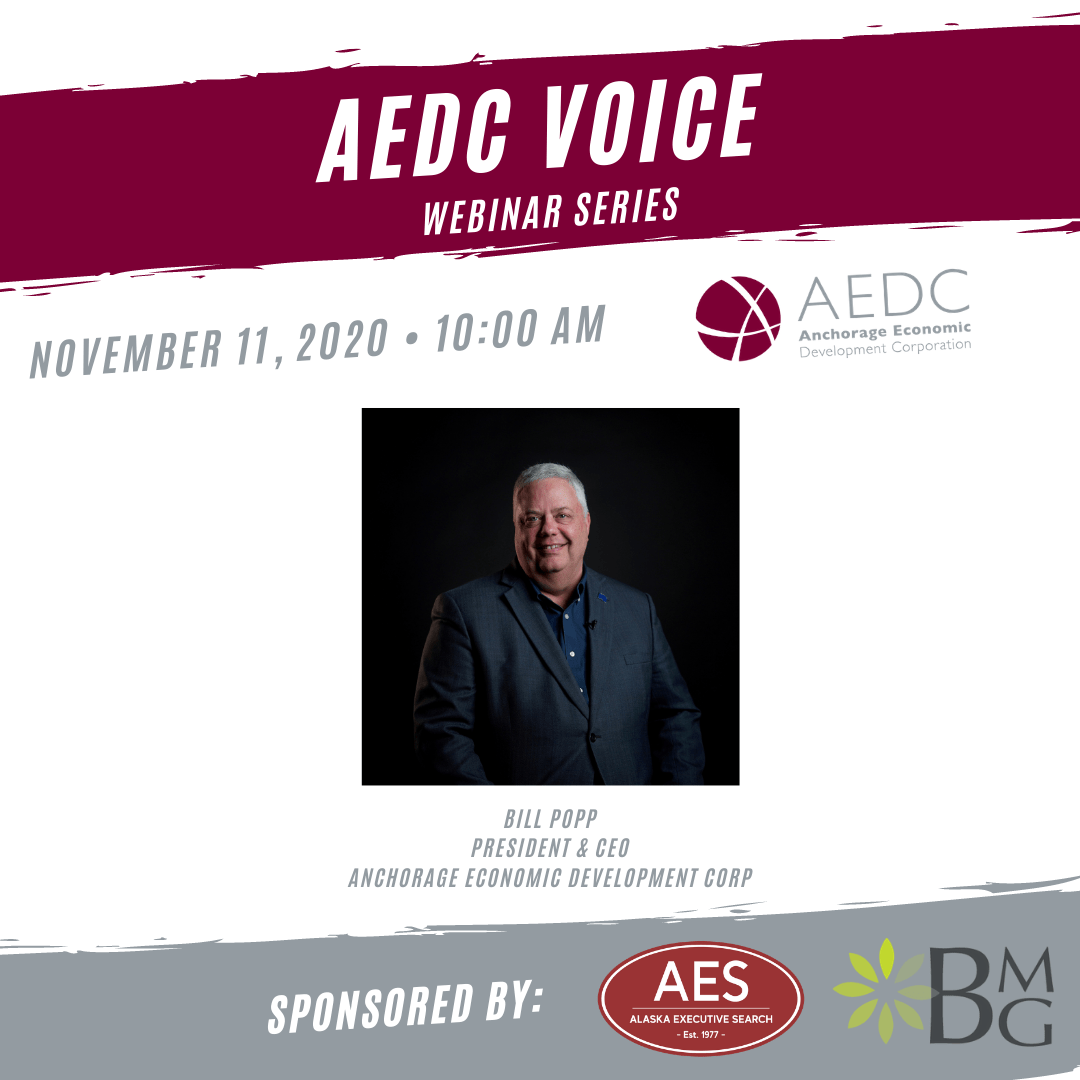 The November webinar featured AEDC President & CEO Bill Popp. Popp provided important updates, including AEDC's latest employment report, how Anchorage compares with other Alaska communities, what AEDC is seeing with unemployment, and broader industry and economic data.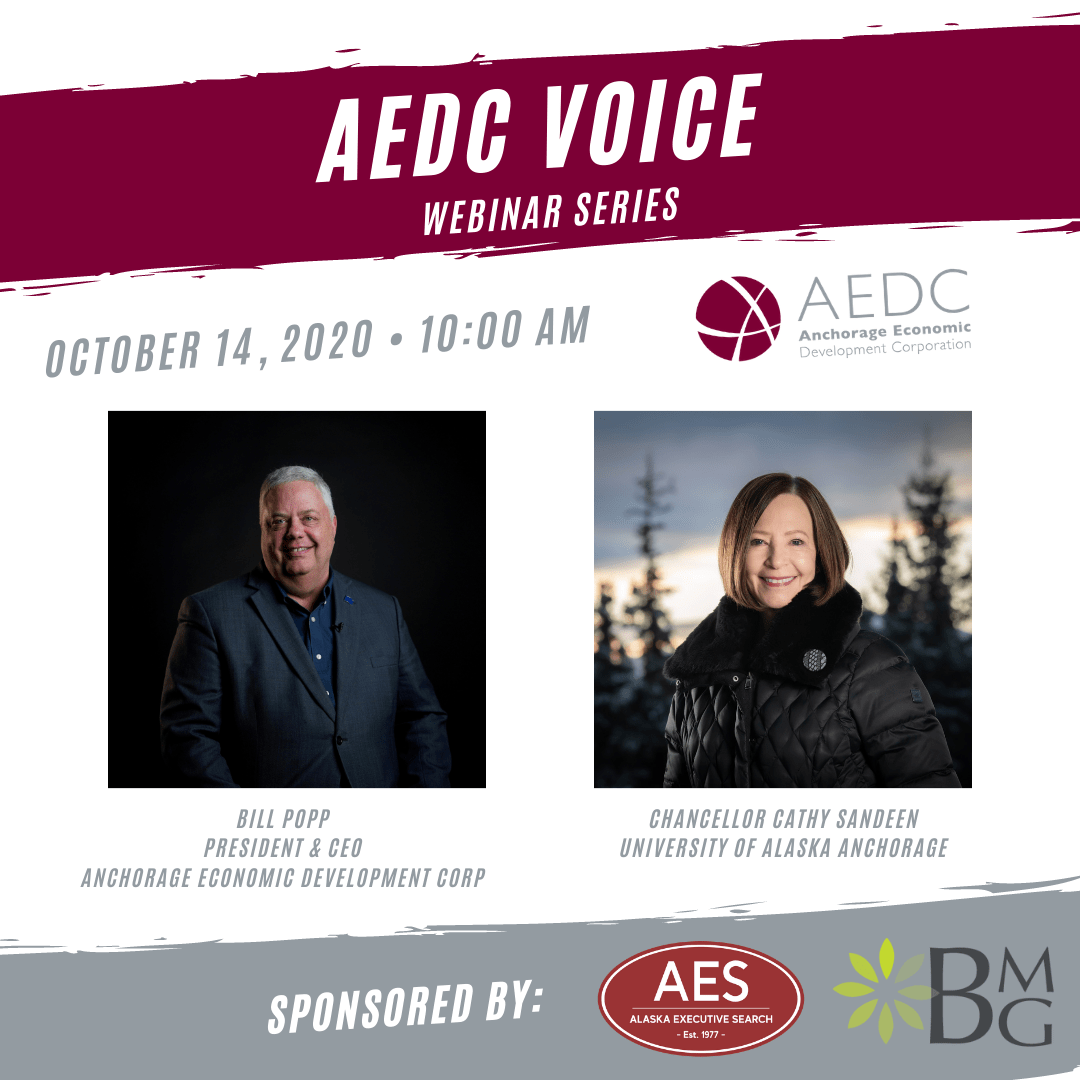 The October webinar featured Dr. Cathy Sandeen, chancellor of the University of Alaska Anchorage. Sandeen is an educational leader committed to providing opportunity for more Alaskans to earn degrees and credentials through strategic innovation. She began serving as chancellor in September 2018.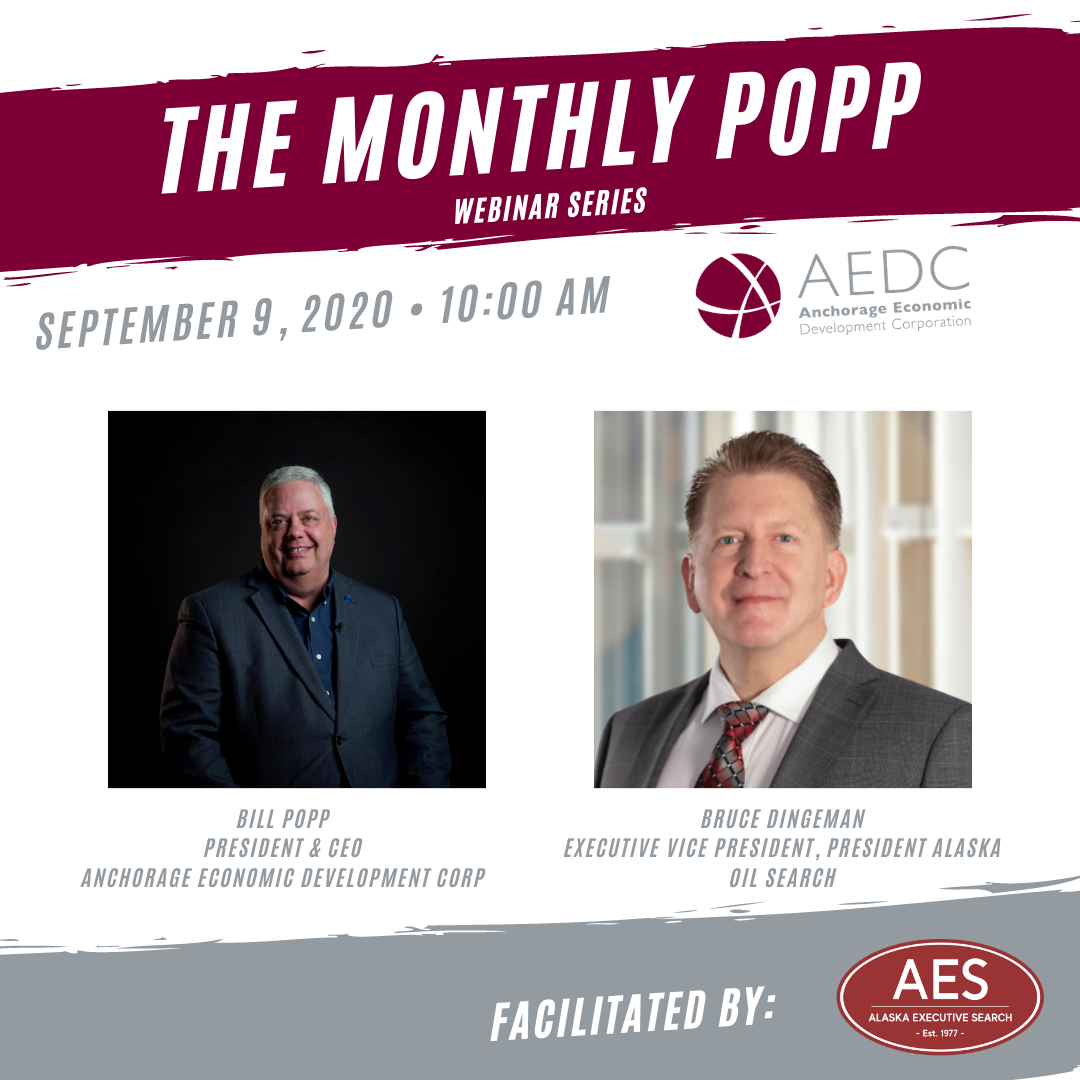 The September webinar featured Bruce Dingeman. Executive Vice President and President Alaska for Oil Search. Dingeman is responsible for operations and development activities in Alaska. He has over 35 years of global industry experience. Prior to joining Oil Search, Dingeman served as General Director for Naftogaz of Ukraine and led the upstream division of the firm.