AEDC Voice
Webinar Series
AEDC Voice is a webinar series hosted the second Wednesday of every month by the Anchorage Economic Development Corporation (AEDC), sponsored by People AK (Alaska Executive Search and Bradison Management Group). The series will consist of a deeper dive into AEDC reports and interviews with key business leaders from different industry sectors that will provide an opportunity for AEDC investor companies to gain better insights into important companies, business leaders, and industry trends.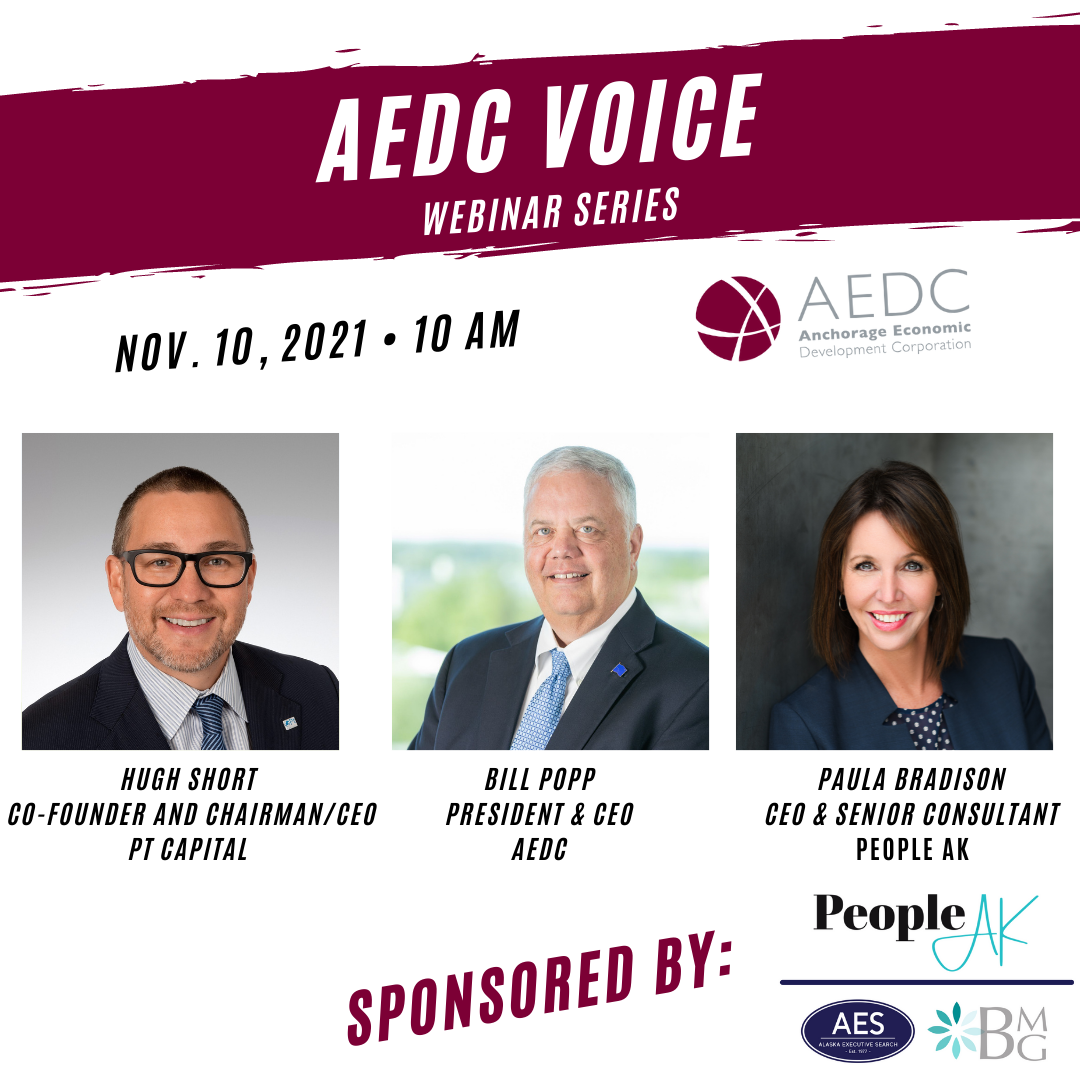 Join us Nov. 10, 10 a.m. for AEDC Voice with sponsor People AK (Alaska Executive Search & Bradison Management Group). AEDC Voice is a free monthly webinar that takes a deeper dive into AEDC reports and interviews with key business leaders from different industry sectors.
This month's webinar is free for AEDC investors, just look for the registration link in the AEDC E-news. There will also be a limited number of registrations available for the general public available by contacting Development Director Kate Matheson at kmatheson@aedcweb.com or 334-1207.
For the November webinar, Hugh Short of Pt Capital will discuss the COVID-19 impact on the business world, the trends developing as a result and how they relate to the Alaska economy. In addition, Short will provide insight into successfully managing a portfolio of assets that represent tourism, technology and energy services sectors during the unprecedented times we have been living through.
Pt Capital is an Alaska-based investment firm which manages a $315 million portfolio (as of June 30, 2021) of companies operating across the Arctic. The firm is concentrated on investment opportunities in high-potential markets of North America and Europe, which include Alaska, the Pacific Northwest, Iceland and Finland. As an emerging manager, Pt Capital has a single-minded drive to invest in great businesses in partnership with global investors and indigenous organizations. A focus on environmental sustainability, gender and race pay equality, and a long-term strategy set Pt apart from other private market firms.Pt Capital was founded in 2013 by Short, who currently serves as Chairman and CEO. Short provides investment oversight and guides overall firm strategy Mr. Short provides Fund investment oversight for both deployment and post-purchase management. He leads capital raises for the Fund and guides overall firm strategy. Short has 20 years of executive level experience and has closed $920 million in debt and equity investments in oil and gas, telecommunications, hospitality, real estate, and infrastructure throughout the target region.
Prior to co-founding Pt Capital, Mr. Short was president and CEO of Alaska Growth Capital BIDCO, Inc., a subsidiary of Arctic Slope Regional Corporation. Alaska Governor Sean Parnell appointed Mr. Short to the Alaska Industrial Development Authority (AIDEA) and the Alaska Energy Authority in 2011. He was appointed chairman of AIDEA and led the multi-billion state-owned investment bank. During his two-year tenure as chairman, more than a half a billion dollars in capital and associated contributions by partners were appropriated; in addition, the board approved due diligence on another $295 million in infrastructure development projects, including the first investments in offshore drilling rigs. Mr. Short is an Inupiaq, also served as the mayor of Bethel, Alaska from 2002 to 2004, and is a board member for Rural Energy Enterprises. Mr. Short received a Bachelor's in political science from the University of Alaska Anchorage.
Past Webinars
For access to the webinar recordings, please visit your membership portal or contact Kate Matheson at kmatheson@aedcweb.com.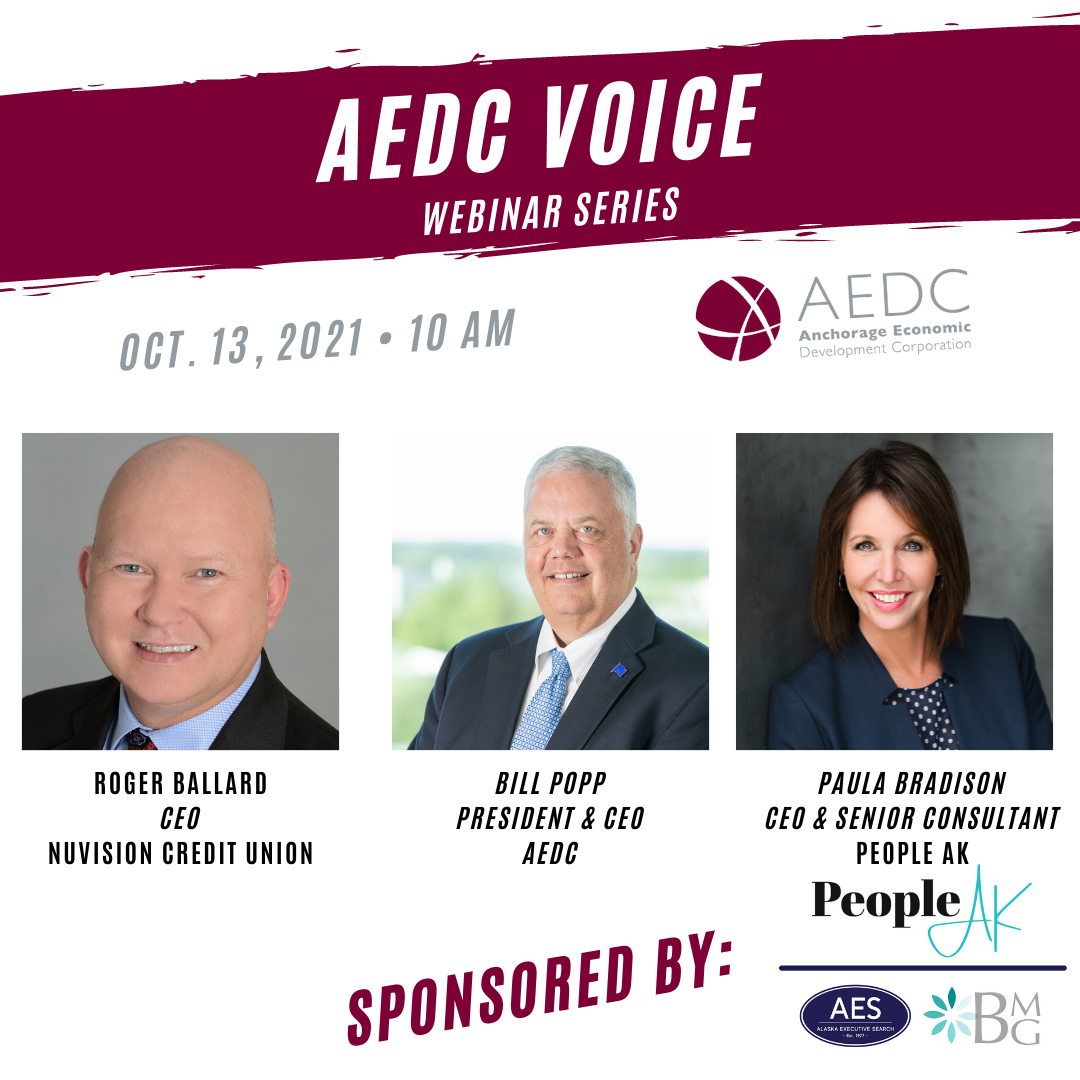 The October webinar featured Nuvision CEO Roger Ballard introducing Nuvision Credit Union Alaska, the result of a recent merger with Denali Federal Credit Union. With a behind-the-scenes look at merging with a credit union with a more than 70-history of serving Alaskans, Ballard discusses the challenges and opportunities managed along the way. He shares Nuvision's commitment in Alaska and provides insight to the credit union's investment in community and members.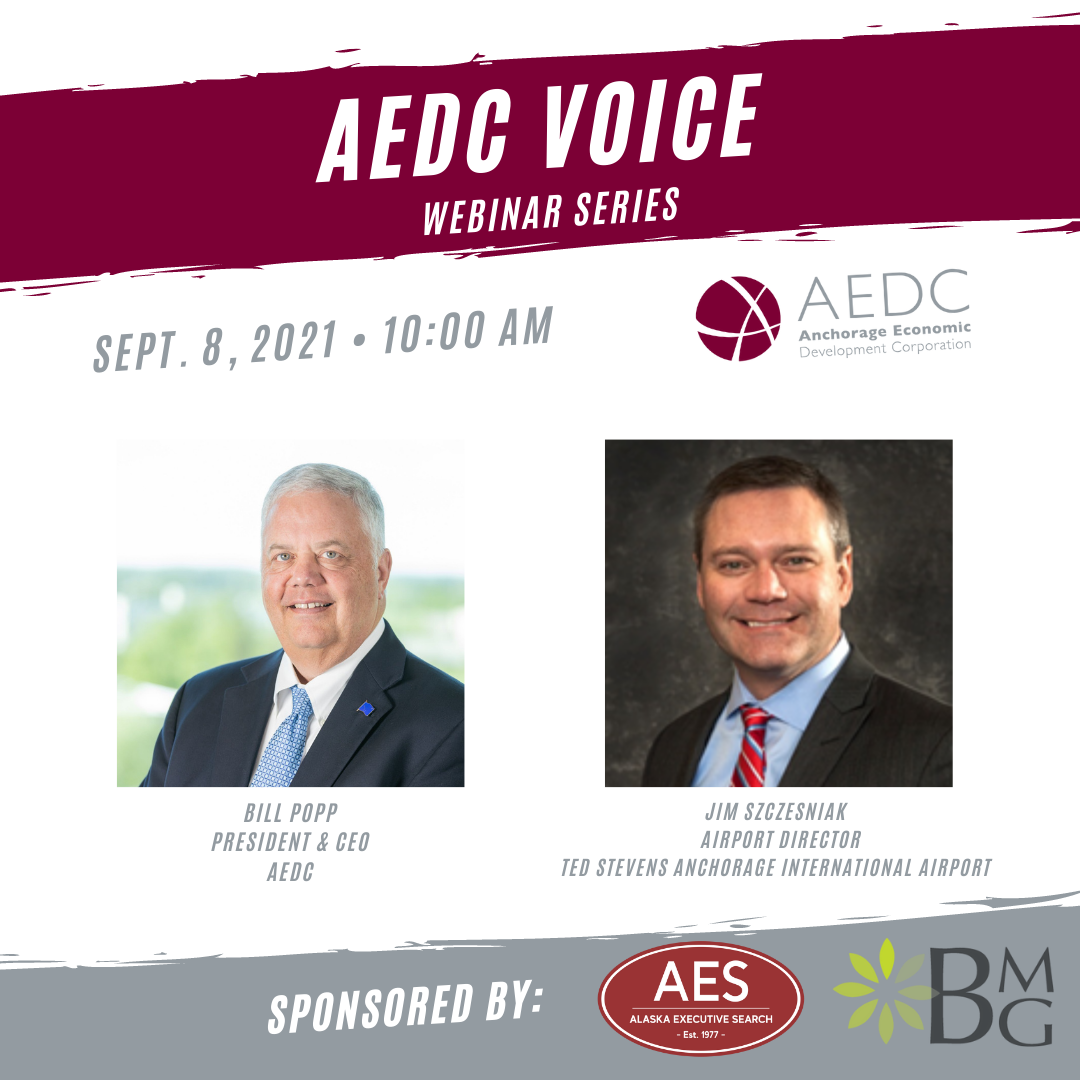 The August webinar featured Jim Szczesniak, Airport Director at the Ted Stevens Anchorage International Airport (ANC), will discuss what he sees as the future of passenger service for ANC, review the summer of 2021 and what the announcement of Northern Pacific Airways means. Szczesniak will also discuss how the air cargo industry is changing and how ANC is preparing for future air cargo growth, including how a new method of shipping, AKSpeed, can allow ANC to capture more cargo from the ocean freight market.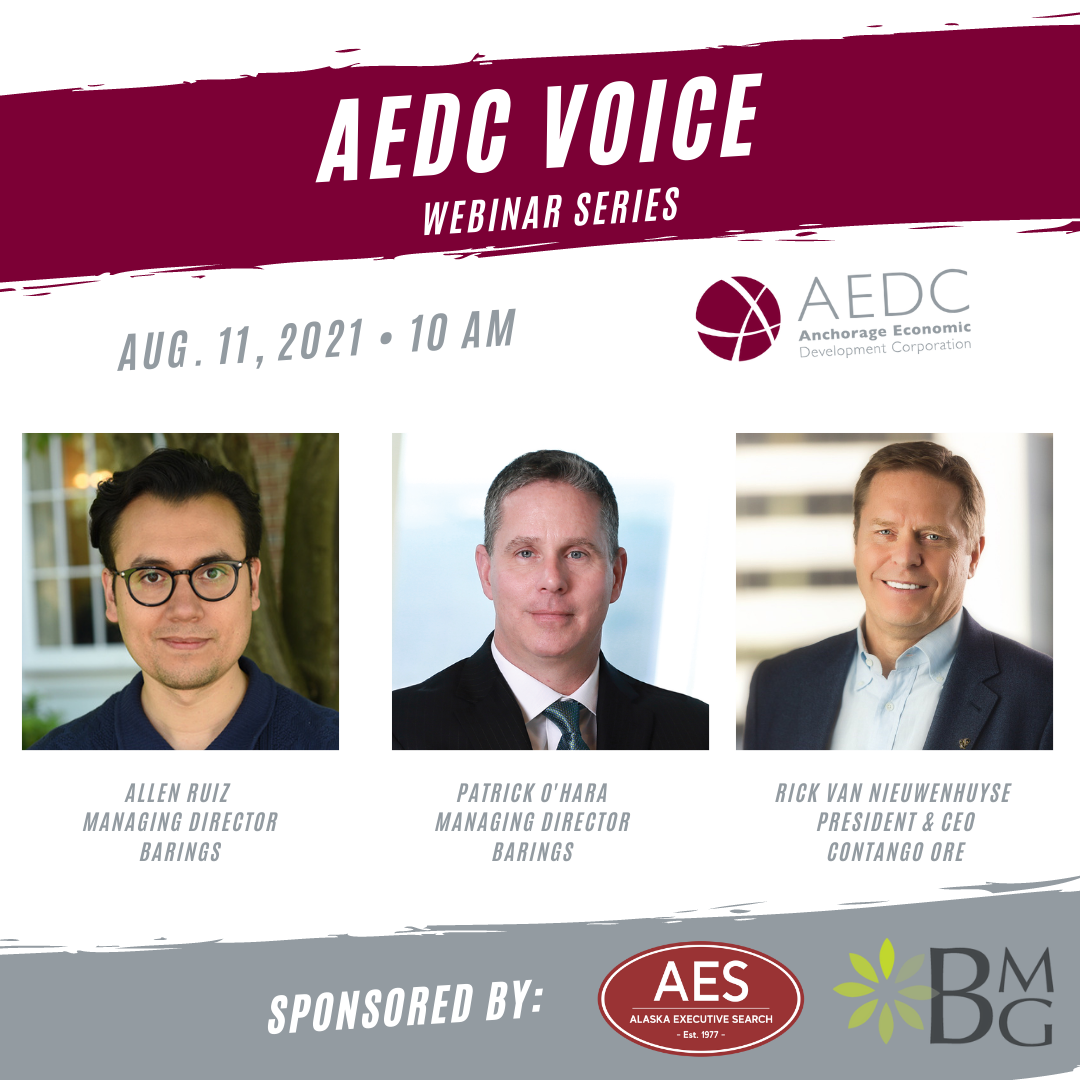 The August webinar featured Allen Ruiz and Patrick O'Hara of Barings providing an overview of its Alaska in-state program (the Alaska Future Fund or "AFF"). Barings was joined by Rick Van Nieuwenhuyse, President and CEO of Contango ORE, Inc. (a recent AFF investment), to provide an overview of the Metals and Mining industry in Alaska.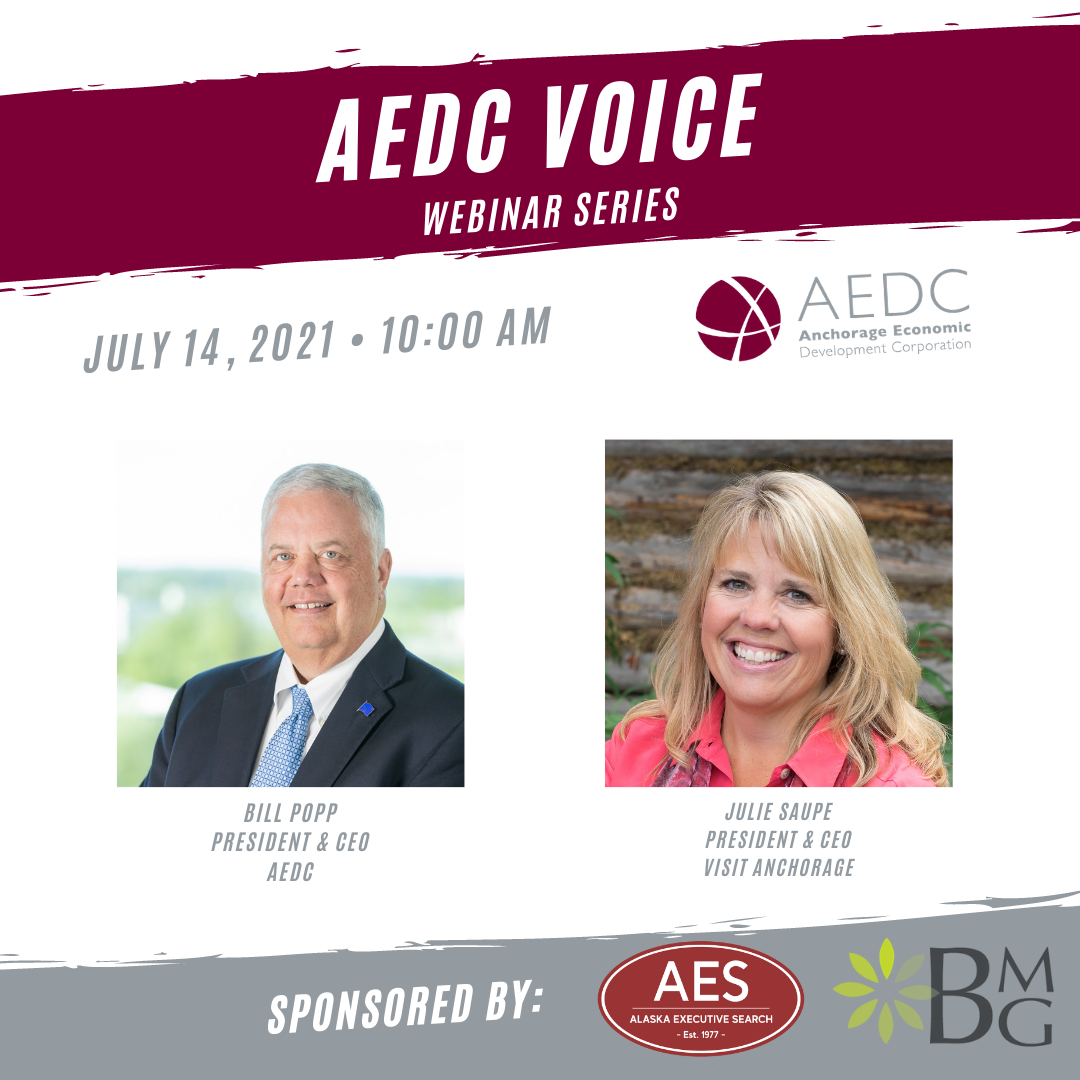 The July webinar featured Julie Saupe, CEO, Visit Anchorage. Saupe provided a midsummer snapshot of tourism's progress on the path to recovery. She also discussed the challenges still facing the industry in the aftermath of the pandemic, consider trends and early-season outcomes for Anchorage from travel, and look beyond 2021 to identify long-term needs and initiatives to keep Anchorage at the top of the traveling public's desires.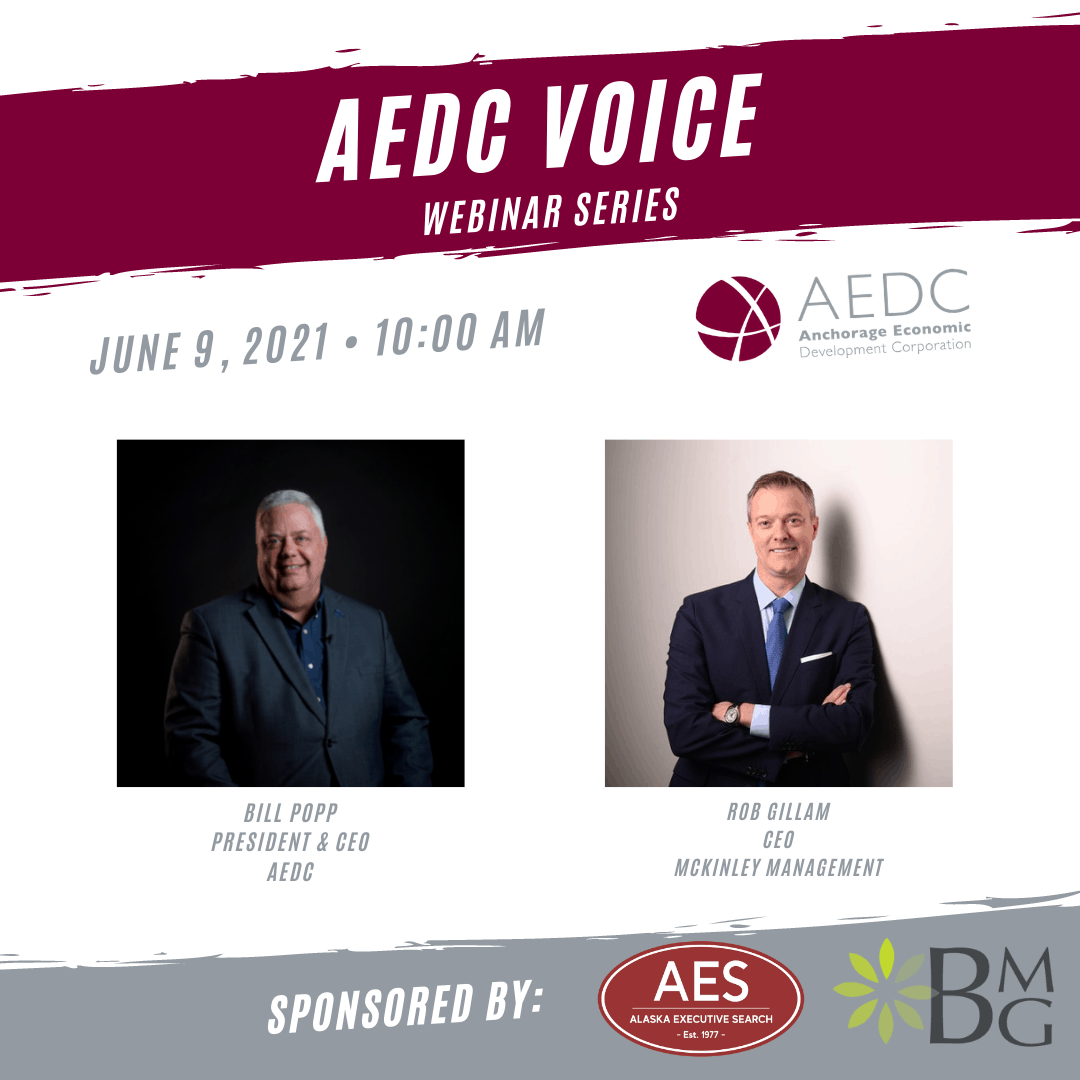 The June webinar featured Rob Gillam, CEO, McKinley Management. Gillam's presentation focused on private investment opportunities in Alaska. He discussed why global investors are interested in Alaska and how private investment can benefit the state. Gillam also provided an overview of the work being done through McKinley Alaska Private Investment, LLC.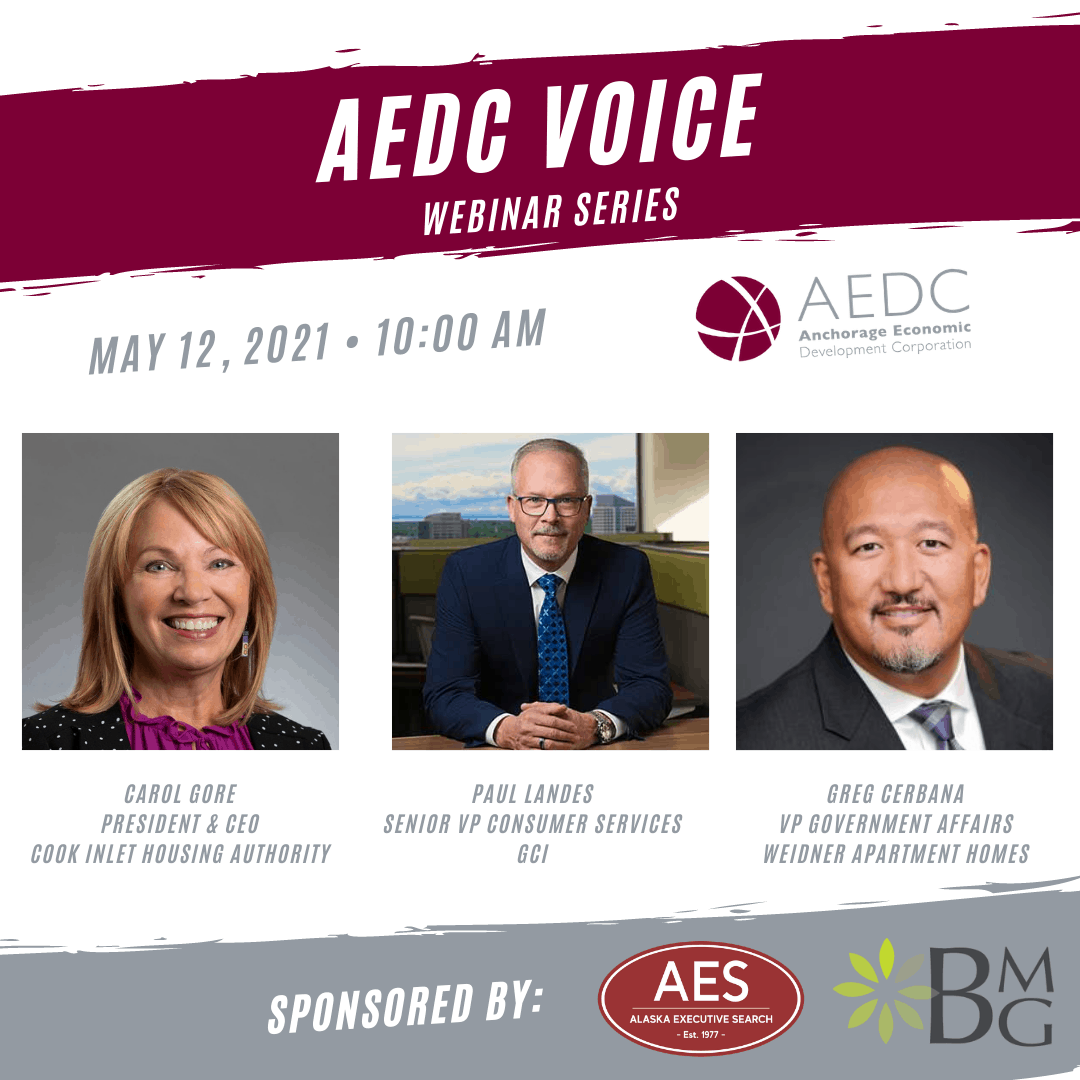 The May webinar featured the Anchorage Homelessness Leadership Council. HLC is a group of 11 Alaska business leaders, representing some of the largest companies in the city, providing their expertise, resources and time to advance solutions to eliminate homelessness. HLC members featured on this month's AEDC Voice are Carol Gore, president and CEO of Cook Inlet Housing Authority; Paul Landes, senior vice president of GCI; and Greg Cerbana, vice president at Weidner Apartment Homes.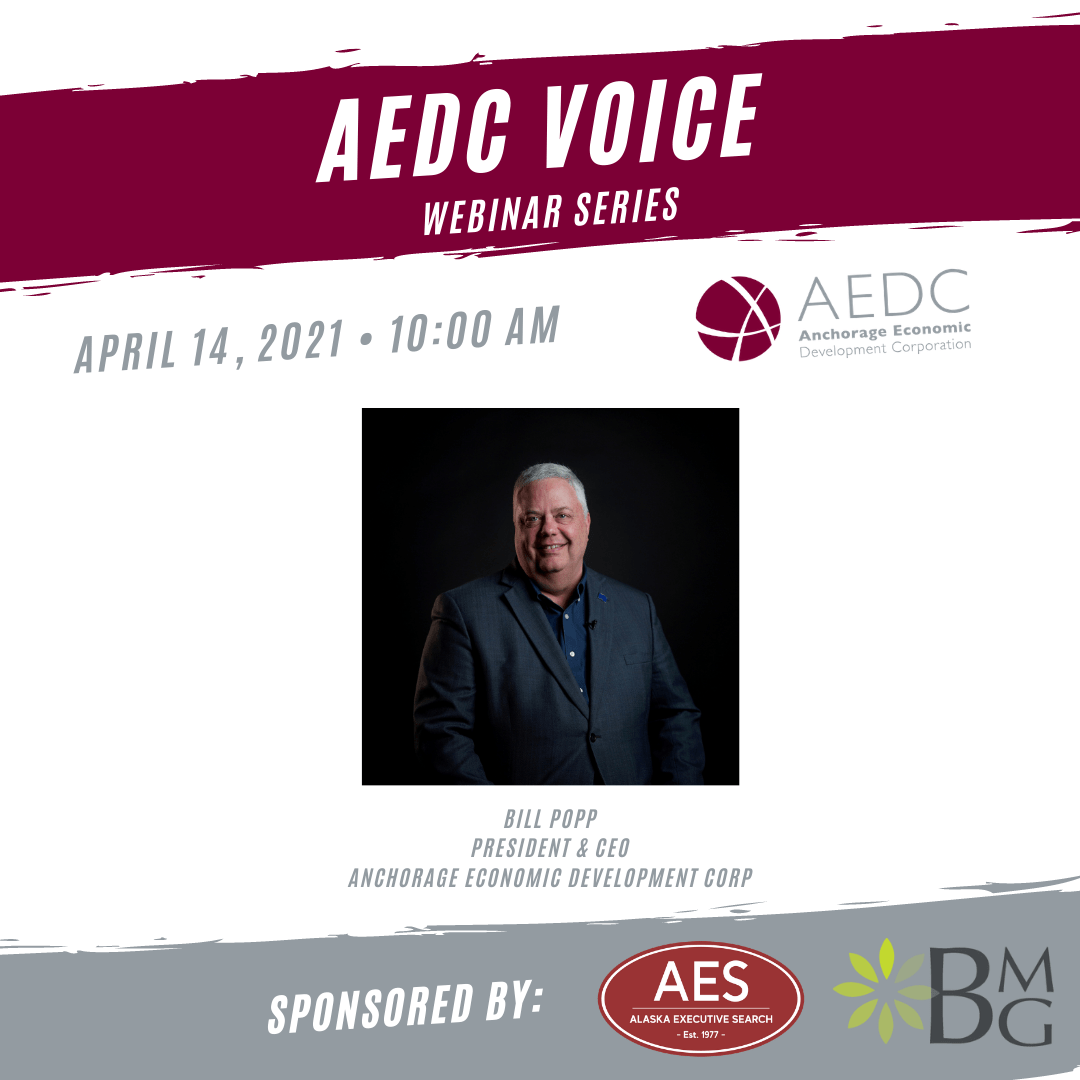 The April webinar featured Bill Popp, AEDC President & CEO. Popp's presentation included a recap of reports and trends from the 2021 Economic Forecast Luncheon earlier in the year, with updated analysis on current conditions and what to expect for 2021.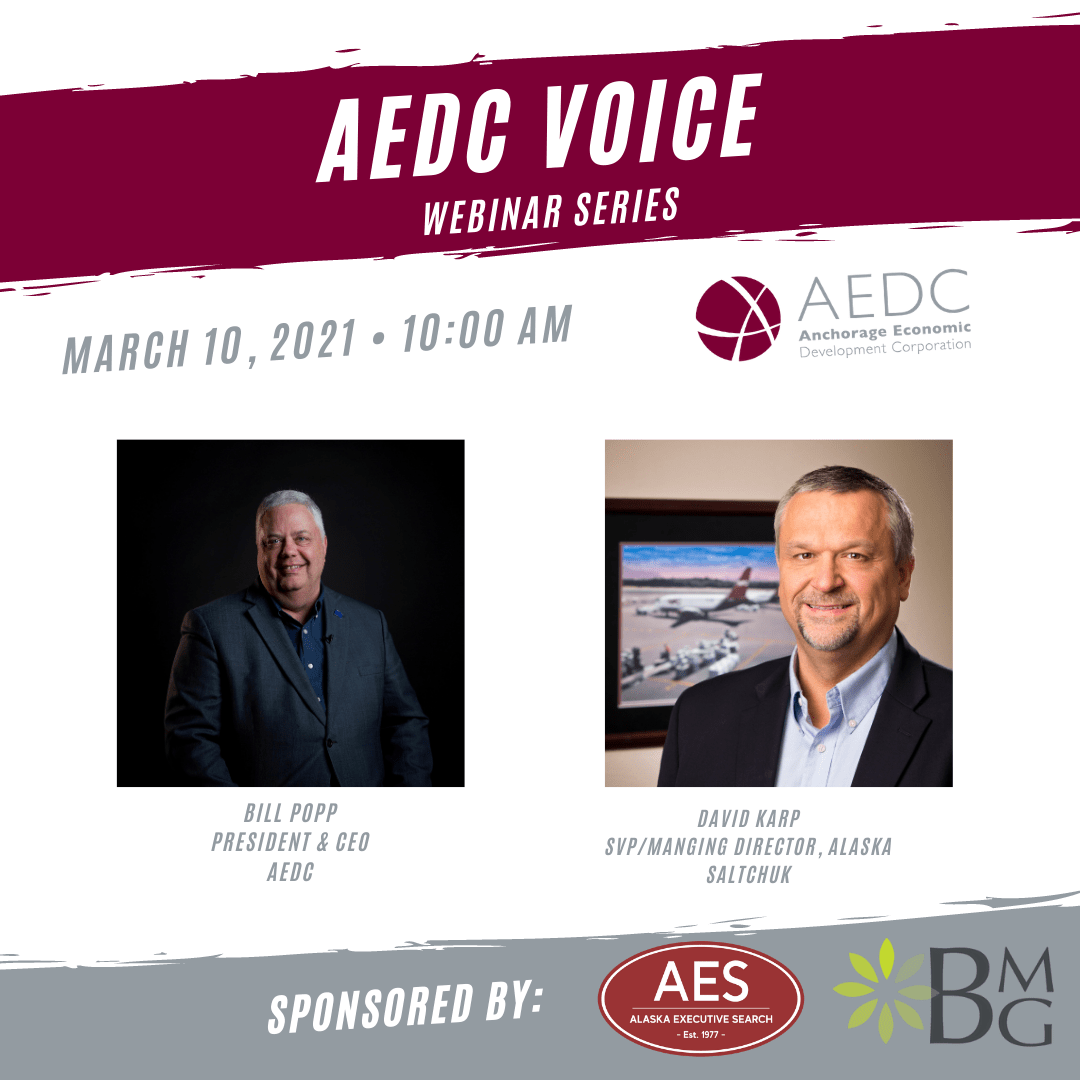 The March webinar featured Dave Karp, Senior Vice President & Managing Director for Saltchuk Alaska.  Dave's presentation provided an overview of Saltchuk as a global company, with specific information on the company's Alaska operating footprint, employment impacts, corporate citizenship and role in the overall economy.  He also shared thoughts on the impact of the pandemic and the company's general outlook for future.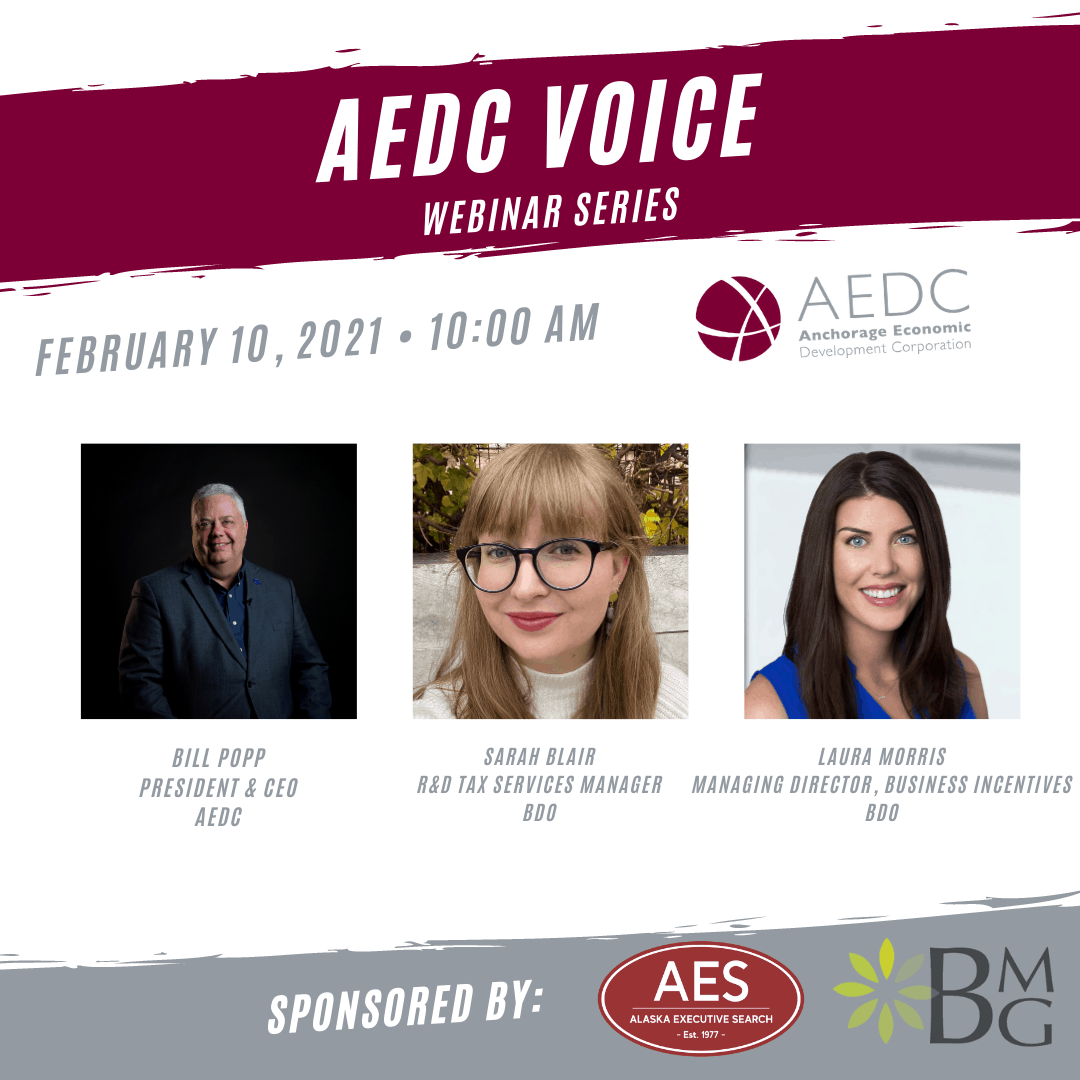 The February Webinar featured Sarah Blair and Laura Morris of BDO talking about The Employee Retention Credit. The "ERC" was significantly expanded and extended as a part of the Consolidated Appropriations Act, 2021. The ERC is a refundable payroll tax credit for wages paid and health coverage provided by an employer whose operations were either fully or partially suspended due to a COVID-19-related governmental order or that experienced a significant reduction in gross receipts. Notably, the Act made a retroactive change to the ERC, applicable from March 13, 2020, that may allow employers that received PPP loans may qualify for the ERC with respect to wages that are not paid with proceeds from a forgiven PPP loan.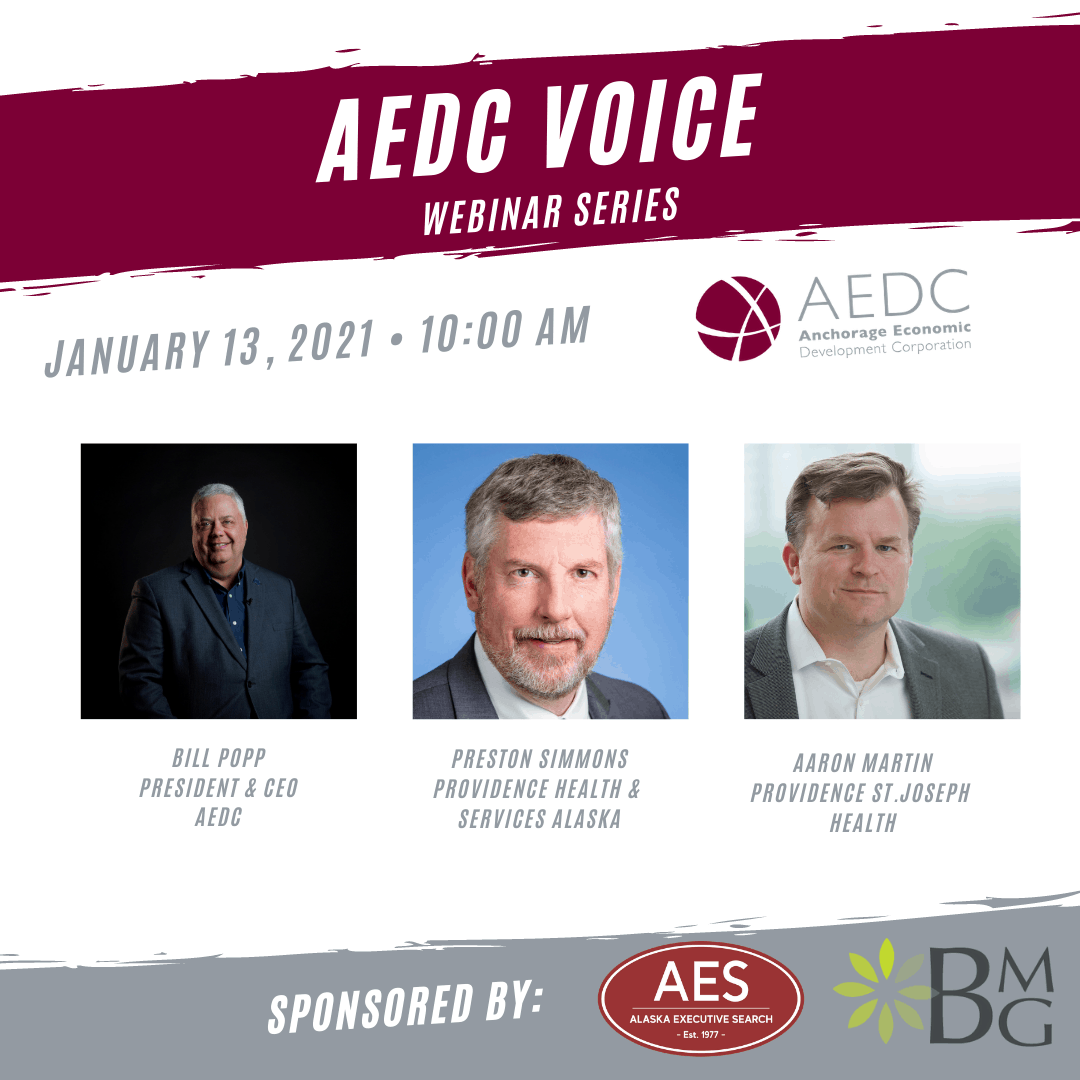 The January webinar featured Preston Simmons, Chief Executive of Providence Health & Services Alaska and Aaron Martin, Executive Vice President and Chief Digital Officer for Providence St. Joseph Health. The discussion focused on innovation in the delivery of health care post-COVID-19.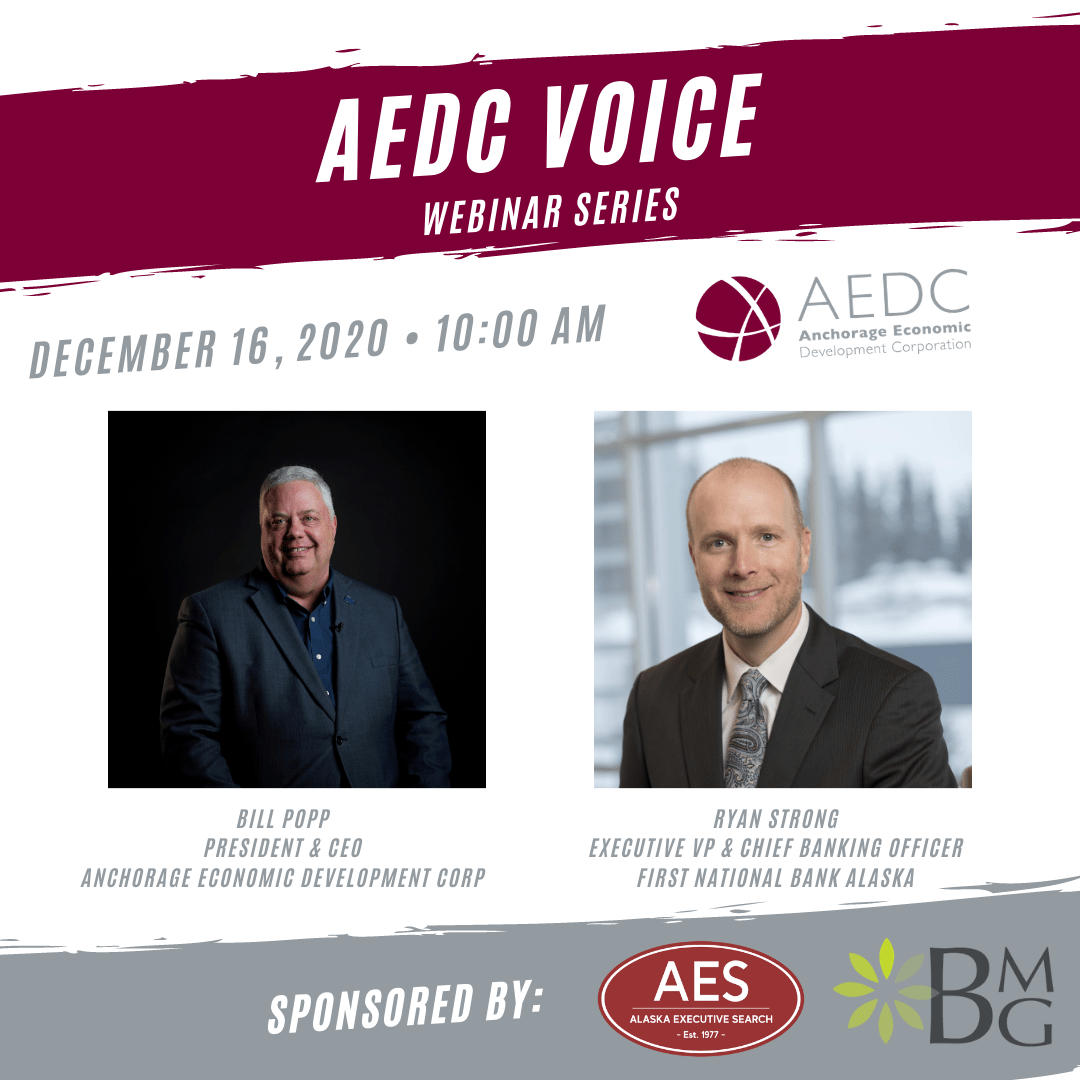 The December webinar featured Ryan Strong, Executive Vice President and Chief Banking Officer at First National Bank Alaska (FNBA). The presentation gives an overview of FNBA, how COVID has affected the banking industry and what Strong sees as the state moves toward into recovery.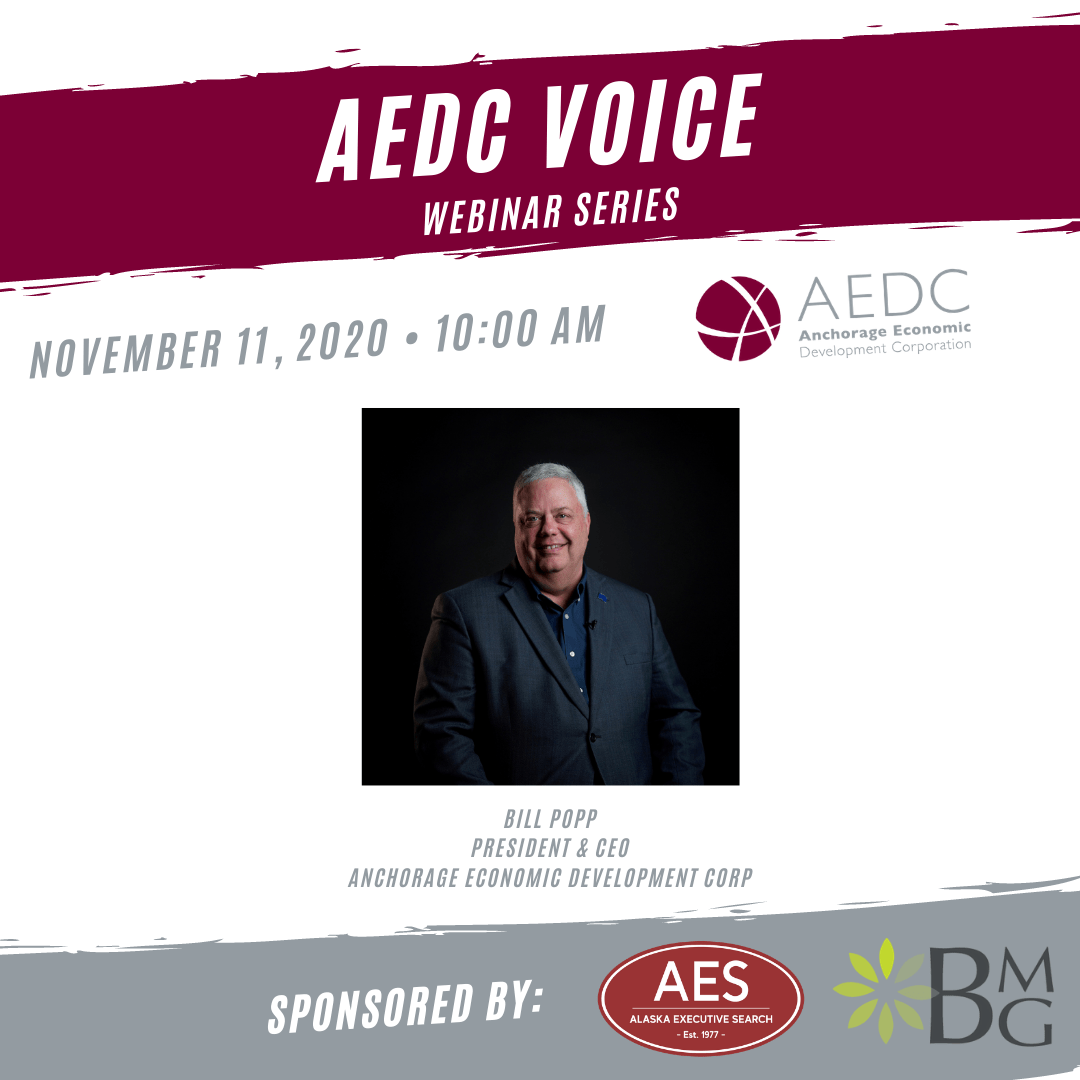 The November webinar featured AEDC President & CEO Bill Popp. Popp provided important updates, including AEDC's latest employment report, how Anchorage compares with other Alaska communities, what AEDC is seeing with unemployment, and broader industry and economic data.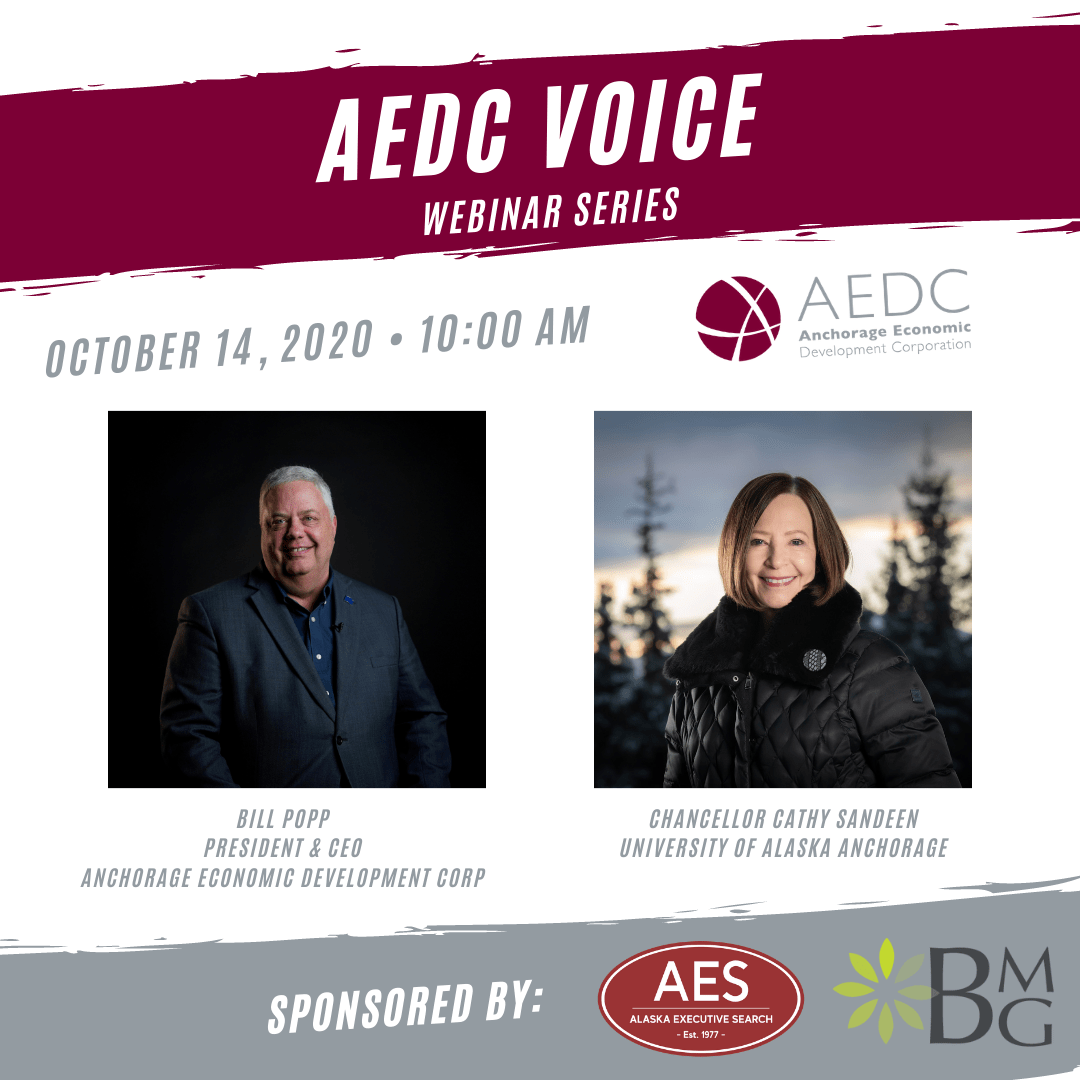 The October webinar featured Dr. Cathy Sandeen, chancellor of the University of Alaska Anchorage. Sandeen is an educational leader committed to providing opportunity for more Alaskans to earn degrees and credentials through strategic innovation. She began serving as chancellor in September 2018.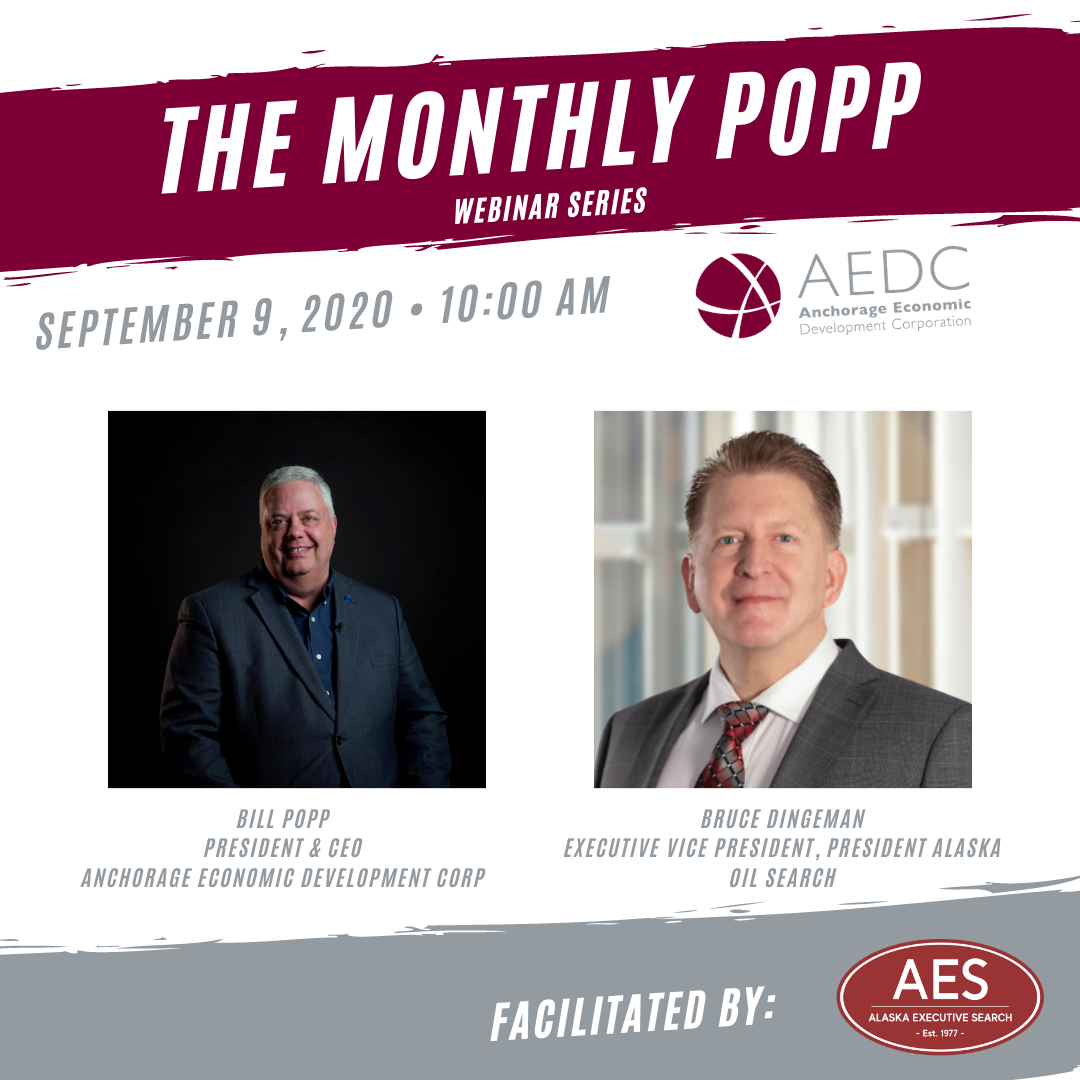 The September webinar featured Bruce Dingeman. Executive Vice President and President Alaska for Oil Search. Dingeman is responsible for operations and development activities in Alaska. He has over 35 years of global industry experience. Prior to joining Oil Search, Dingeman served as General Director for Naftogaz of Ukraine and led the upstream division of the firm.