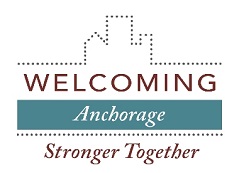 The job market is changing. It is no longer people going where jobs are. Instead, people are going where they want to live and jobs are going where the people are. Today's talent is looking for a city that is aesthetically pleasing, welcoming and open to diversity.
Anchorage is a member of the National Welcoming Cities initiative and on September 12-20, 2015, LWP's One Anchorage, One Economy team supported the city's first-ever Welcoming Week Anchorage, which was a great success! The Welcoming Week events helped to engaged a number of new community members and will be followed up by policies and practices that help make Anchorage a more welcoming city.
For more information about this initiative, please contact Municipality of Anchorage Ombudsman Darrel Hess at HessDW@ci.anchorage.ak.us or AEDC LWP Director Archana Mishra at amishra@aedcweb.com.
Photos from Welcoming Week Anchorage 2015: