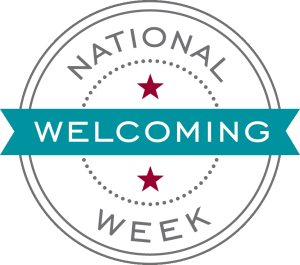 The One Anchorage, One Economy team will kick off its Welcoming Cities initiative by helping organize the city's first-ever Welcoming Week!
You are encouraged to attend all of the Welcoming Week events, including the Anchorage Chamber Make it Monday Forum – a panel discussion highlighting the benefits of a welcoming city and its workplaces.
Welcoming Week will highlight four events:
Sept. 14: Anchorage Chamber of Commerce Make It Monday Welcome Week Forum, 12-1 p.m. at the Dena'ina Center
Sept. 16: Welcome Week Naturalization Ceremony/Reception for new U.S. citizens, 12 p.m. at the Z.J. Loussac Library Anchorage Assembly Chambers
Sept. 17: Welcome Week Reception and Open House, 6:30-8 p.m at the Anchorage Museum
Sept. 19: Welcoming Anchorage Community Celebration, 2-5 p.m. at the Northway Mall
Download the Welcoming Week flyer here.
For more information about this initiative or Welcoming Week events, please contact Municipality of Anchorage Ombudsman Darrel Hess at HessDW@ci.anchorage.ak.us or AEDC LWP Director Archana Mishra at amishra@aedcweb.com.