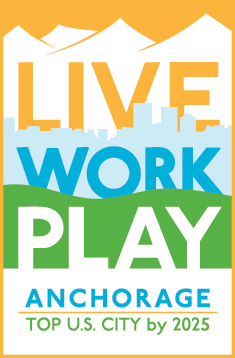 What is

Live.

Work.

Play.

?
We have a vision for our future. By 2025, Anchorage is the #1 city in America to Live. Work. & Play
Anchorage is a young and growing city for all ages where you can live close to work, make a competitive salary and have a plethora of options for entertainment and outdoor activities. There are many things that make this city an amazing place to call home; however, to be the #1 city in the nation to live, work, and play we must continually improve and invest.
As Alaskans, we are proud of our state. We know that as the largest state in the nation we have more to offer. Our economy is stable, our workforce is strong and opportunities are plentiful. Our mountains are bigger, our trails are longer and we share one common idea — we love where we live.
Live. Work. Play. is a grassroots effort focused on community improvement and engagement for the people who live here.
In 2011, the AEDC Board of Directors unanimously passed the aspirational narrative and metrics for the Live. Work. Play. initiative that states by 2025, Anchorage will be the #1 city in America to live, work and play.
Download the narrative here: Live. Work. Play. Narrative
Live. Work. Play. Areas of Focus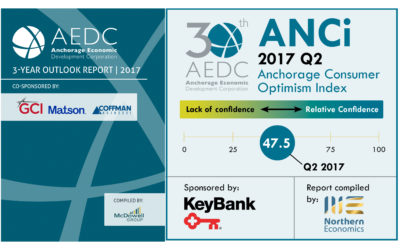 Download reports 2017 3-Year Outlook Report Learn what to expect in the next three years when it comes to housing, jobs, tourism, oil prices and more. This report is co-sponsored by GCI. Coffman Engineers and Matson, Inc. and compiled by McDowell Group on behalf of...
read more
Flattop Sponsors: $1,000+
Alaska Airlines, Cook Inlet Housing Authority, CRW Engineering Group LLC, DOWL, RIM Architects, KPMG, Brandy Pennington – Dwell Realty, Jamie Harvey – Jack White Real Estate, Bristol Bay Native Corp., Cook Inlet Tribal Council, Weidner Apartment Homes, ENSTAR Natural Gas, Avitus Group