AEDC staff is small but accomplishes much. Although each position is structured to provide a specialized function, the staff interacts closely on projects, combining their expertise to see a project to fruition. Listed below is a brief description of each person's background and the major focus of his or her position.
Bill Popp
President & CEO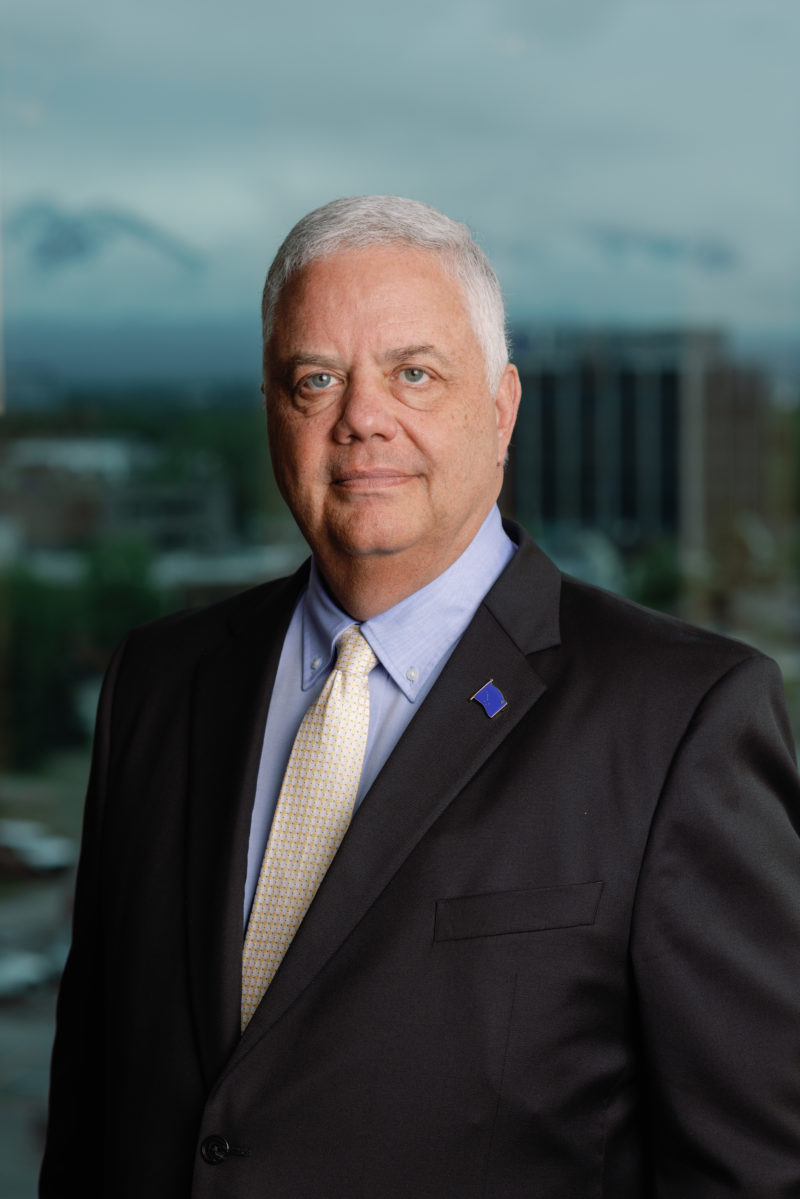 Bill Popp has spent over 47 years in both the Alaska private and public sectors. As President & CEO of the Anchorage Economic Development Corporation since 2007, he sets the strategic direction in marketing Anchorage and Alaska to companies, critical workforce, and global industries considering Anchorage as a place in which to do business and assists local businesses looking to expand both within Anchorage and Alaska as well as Lower 48 and international markets.
Prior to joining AEDC, Popp was a special assistant in the Kenai Peninsula Borough Mayor's office from 2002 to 2007 focused on oil and gas and mining policy. Popp was also an elected municipal government official for the Kenai Peninsula Borough (KPB) from 1996 to 2002 and presided over the KPB Assembly as president in 2000. Popp has over 25 years of private industry experience working for large national and regional businesses and as a small business owner. He also served as project coordinator responsible for fundraising $2.5 million and coordination of design and construction, as well as program development of the Challenger Learning Center for Alaska from 1996 to 2000.
Popp is currently chair of the Economic Resiliency Task Force (COVID-19 Response), chair of the USO Alaska Board of Directors and co-chair of the 49th State Angel Fund Business Advisory Committee. He is a board member of the Anchorage Chamber of Commerce, Visit Anchorage, Anchorage Downtown Partnership, and Alaska Public Media. Popp also serves as a member of the UAA College of Business and Public Policy Business Advisory Board, the Alaskan Command Civilian Advisory Board, the JBER Community Partnership Leadership team, is co-chair of the Governor's Alaska Civilian Armed Services Team (ACAST) and is a leadership group member of the Alaska Regional Development Organizations (ARDORs).
Popp has previously served as chair of the JBER Base Economic Analysis Research (BEAR) Working Group and co-chair of the efforts to oppose the force reduction of the 4-25 Army Brigade at JBER. Popp was also a member of Governor Bill Walker's Transition Committee, member of Mayor-Elect Ethan Berkowitz's Transition Committee, and member of Mayor-Elect Dan Sullivan's Transition Committee. He has also served as chair of the Governor's Broadband Task Force, and Municipality of Anchorage Energy Policy Task Force.
Other past service includes serving on the Board of Directors of the Anchorage Concert Association, the Legislative Energy Policy Stakeholders Group; chairman of the KPB Economic Development Criteria Task Force; chair of the Economic Development Committee for the Municipality of Anchorage; vice chairman of the Alaska Stranded Gas Act Municipal Advisory Group; co-chair of Governor Murkowski's Agrium Task Force; chair of the Kenai Peninsula Development Coalition; consultant for the British Columbia Provincial Government's Offshore Oil and Gas Team; member of the Tri-borough Commission Energy Task Force; Board member of the Kenai Peninsula Borough Economic Development District; Fundraising Chair of the 2006 Arctic Winter Games; Fundraising Chair for the USS Anchorage Commissioning Ceremony; a member of the Municipality of Anchorage 2020 Census Complete Count Commission; and a member of the Cook Inlet Natural Gas Pipeline Terminus Group. 
Popp first moved to Anchorage in January 1968 as a military dependent at Elmendorf Air Force Base. A graduate of East Anchorage High School in 1977, Popp and his wife Nicole married in 1979. Work took Popp to the Kenai Peninsula in 1983 where he and Nicole raised their daughter and son over the 25 years they lived in Kenai. They have two grandchildren who live in Anchorage and happen to be military dependents too.
Jenna Wright
Vice President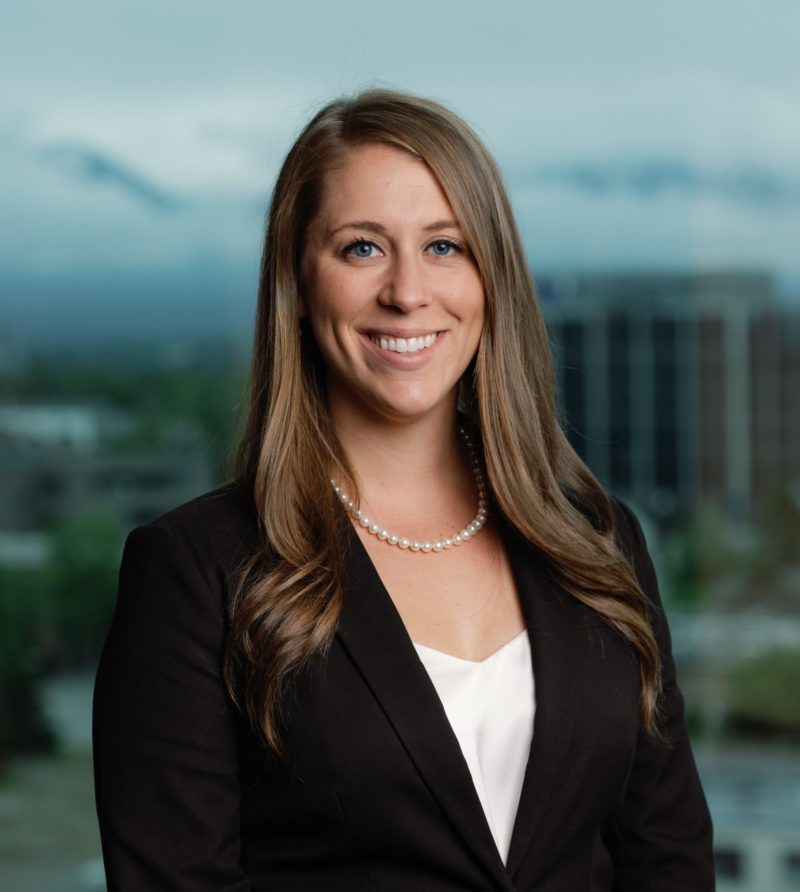 As AEDC's Vice President, Jenna is responsible for managing and supporting the successful deployment of strategies, programs and initiatives that promote the growth of the Anchorage economy. She works in collaboration with the AEDC President & CEO, staff, and Board of Directors to accomplish initiatives and projects including business retention and expansion, workforce development, economic research, so that by 2030, Anchorages becomes the #1 mid-sized city in America to live, work and play.
Jenna earned her bachelor's degrees in Marketing and Investment Finance from the University of Alaska Anchorage (UAA) in 2010. Jenna returned to UAA four years later in pursuit of a Master's of Business Administration (MBA), which she earned in 2015 with an emphasis in Business Intelligence and Data Analytics.
After graduating with her MBA, Jenna worked as the Director of Business Operations for an Alaskan satellite communications company where she was responsible for operational leadership of staff and regional contractors and optimizing satellite installation strategies across Alaska and Hawaii. In 2018, Jenna joined the State of Alaska leadership team as the Deputy Director of the Division of Motor Vehicles where she was responsible for managing statewide operations, modernizing service delivery methods to optimize Alaskan's experiences, legislative affairs, and budget management. Jenna also formed a small tourism business in Anchorage that she co-owned with her husband from 2016 to 2018.
Outside of the office, Jenna enjoys cooking, travelling, and above all else, is an avid outdoorswoman. She loves to spend her time mountain running, biking, and hiking. She has trained for and participated in several historic Alaskan races like Seward's Mt. Marathon and Anchorage's Golden Nugget Triathlon, in addition to many other road running and mountain races across Alaska. Jenna was born in Anchorage, and expects to always call Anchorage home, where she lives with her husband Dana and their three dogs.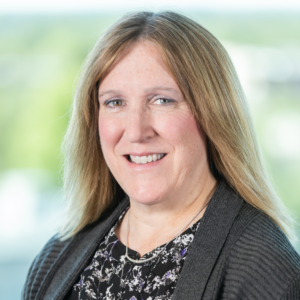 Kate Matheson - Development Director
Kate is responsible for all AEDC revenue and event functions and investor relations. She will be working closely with AEDC President & CEO, AEDC staff, and Board members in developing strategies for annual fundraising including corporate memberships, sponsorships, and in-kind support as well as planning and executing AEDC's premier Economic Forecast and 3-Year Outlook luncheons.  Before joining us, Kate worked at United Way of Anchorage as a director over workplace giving and as a business relationship manager working closely with companies throughout Alaska to implement their corporate social responsibility plans.
Kate holds a bachelor's degree in Political Science from Auburn University where she participated in the Auburn University marching band, playing in college stadiums throughout the Southeast.
Kate is a native New Yorker, grew up on the beaches of Long Island, met her husband in Central Park and they have 5 almost all grown children.  They have called Alaska home since 2009.