The Anchorage Economic Development Corporation Board of Directors confirmed that, effective Sept. 9, Jenna Wright of AEDC will serve as Interim President and CEO while the Board of Directors conducts a national recruitment effort for a successor to longtime President and CEO Bill Popp. Popp will be leaving the organization effective Sept. 8 to pursue other professional opportunities.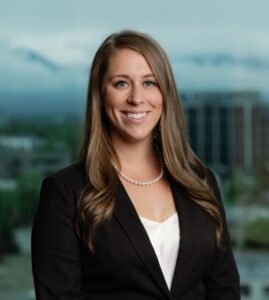 Wright, a lifelong Alaskan with a passion for Anchorage's success, currently serves as the vice president of Anchorage's leading economic development organization, hosted the AEDC Economic Outlook in January and Three-Year Forecast in August, and is the vice-chair of the Anchorage Chamber of Commerce's Young Professionals Group. Wright, a graduate of the University of Alaska Anchorage, holds bachelor's degrees in marketing and finance, as well as a master's degree in business administration with an emphasis in business intelligence and data analytics, has a strong background in leadership roles in both the private sector and government, most recently as deputy director of the Alaska Division of Motor Vehicles and Director of Business Operations at Microcom.
"The board has worked closely with Jenna since she joined AEDC in 2022 and is pleased that she will assume this important role for our community in the interim," said AEDC Board Chair Laura Edmondson. "Her professional background and experience in economic development is key to advancing our city and maintaining the momentum of AEDC's strategic initiatives."
After 16 years of leading AEDC, Popp announced in June that he would depart from his role by the end of the year and has worked closely with the Board to develop a transition strategy to maintain leadership and program continuity.
"Bill has taken AEDC from an advocacy organization to one of action and the entire board is grateful for Popp's 16 years of service," said Edmondson. "He's provided a framework to make Anchorage more attractive to business owners and desirable for young people while remaining grounded to reality and the limitations of a young state that is distant from the rest of our country."
During Popp's time at AEDC, the corporation launched its Live.Work.Play. effort that focused on identifying Anchorage's key assets and barriers to attracting businesses and population growth.
Unemployment has ranged from 5.0% in 2007 to today's 3.2% with growth in health care employment, transportation and professional services outperforming longtime key industries. Live.Work.Play. has evolved under Popp's leadership into a Choose Anchorage initiative, a collaborative community approach to addressing business vitality, talent attraction and retention, quality of place and infrastructure.
"It's been a pleasure serving my community and working hand-in-hand with businesses that are passionate about improving Anchorage. I believe in this city, and I believe in Jenna, the AEDC staff and the Board of Directors' ability to continue the momentum of Choose Anchorage," said Popp.
Popp stressed the importance of infrastructure, available skilled workforce, and housing as key indicators for the city's ability to grow. AEDC has worked to leverage community efforts through an aligned approach with the University of Alaska, site developers and the city's top employers. Over the last decade, AEDC launched the community-curated I Love Anchorage Instagram account, the Business Confidence Index, Annual Economic Forecast: 3-Year Outlook Report, Consumer Optimism Index, AnchorageJobFinder.com and the Real Time Jobs Intelligence Report.
About AEDC
AEDC is a private nonprofit corporation, operating since 1987. It exists to encourage growth and diversity in the Anchorage economy, promote a favorable business climate and improve the standard of living of Anchorage residents.