The Anchorage Economic Development Corporation Board of Directors announced on September 26th, 2023, that Jenna Wright has been selected for the role of President and CEO.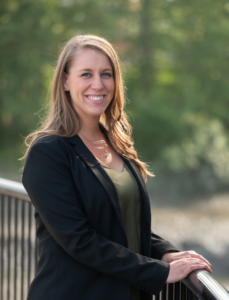 Wright formerly served as Interim President and CEO and was Vice President prior to that. In her new position, Wright will lead the organization in deploying strategies, programs and initiatives that promote the growth of the Anchorage economy. She will work in collaboration with staff, partner organizations and the Board of Directors to support business retention and expansion, workforce development and economic research.
"After a national search, we are thrilled to appoint Jenna to the role of AEDC President & CEO," said AEDC Board Chair Laura Edmondson. "Her expertise in economic development, strength as a leader, and genuine passion for and commitment to Anchorage is an asset to this organization, business community, and city."
"I'm honored and excited to step into this role," said Wright. "I love Anchorage, and I'm proud to call it my home. AEDC's initiatives like Choose Anchorage are imperative to ensuring young people continue to want to live here, and I am so passionate about the work we have done and will continue to do when it comes to business vitality, talent attraction, quality of place, infrastructure and more."
Wright is currently a board member of the UAA College of Business and Public Policy Business Advisory Board, the Anchorage Chamber of Commerce, Visit Anchorage, the Anchorage Downtown Partnership and the Chugiak-Eagle River Chamber of Commerce. Wright also serves as Vice-Chair of the Anchorage Chamber of Commerce's Young Professionals Group.
Read Jenna Wright's full bio here.
About AEDC
AEDC is a private nonprofit corporation, operating since 1987. It exists to encourage growth and diversity in the Anchorage economy, promote a favorable business climate and improve the standard of living of Anchorage residents.