"I Love Anchorage" is not your typical Instagram account.
Every Monday and Thursday a different Anchorage resident is given control of the account. The "host" posts photos of how they are living, working and playing around Anchorage.
The award-winning I Love Anchorage account was created  in Sept. 2013 to support AEDC's board of directors initiative to make Anchorage the #1 city in America to Live, Work and Play by 2025.
The Instagram account is a fun way for different Anchorage residents to share how they live, work and play in our favorite city.
The photos and captions posted reflect the hosts' views, not the view of AEDC, its Board of Directors or Investors.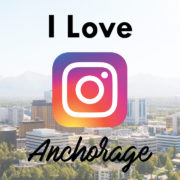 Interested in hosting?
We have suspended the sign-up form to host I Love Anchorage due to the extensive wait time. We don't want you to have to wait a year and a half to host!
Still interested in being involved in Live.Work.Play.? Show your love for Anchorage by joining one of our Areas of Focus! Please fill out the form below.