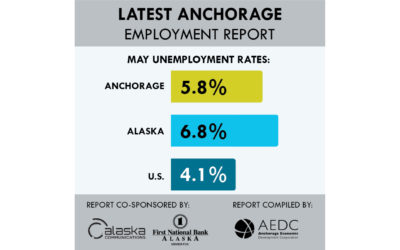 The not seasonally adjusted unemployment rate for Anchorage in May was 5.8 percent, flat compared to the April revised rate, according to the latest AEDC Employment Report co-sponsored by First National Bank Alaska and Alaska Communications. Click graph to enlarge...
read more
Sign up for our newsletter
Stay connected with us and our Investors about what's happening in the Anchorage economy and business community. AEDC e-newsletters contain updates about current news, events, announcements and new Investors!
We hate spam. Your email address will not be sold or shared with anyone else.