Cargo
Ted Stevens Anchorage International Airport (ANC) is a high value stop for air cargo carriers.  ANC is currently among the top five in the world for cargo throughput and 2nd largest airport in the United States for landed weight of cargo aircraft. ANC serves nearly 500 wide-body landings per week. Once here, aircraft can take advantage of the 24-7-365 services that are offered here, including INS, ATC, CPB-GSE, Fueling and De-icing.
Passenger
ANC is a state-of-the-art facility.  Recent work includes the South Terminal Renovation, the AOC Connector Hallway between North and South Terminals and completion of runway upgrades to allow for Design Group VI (DGVI) aircraft, such as the Boeing 747-8 and Airbus 380. The airport serves approx. 5 million passengers per year, houses the world's largest and busiest floatplane base and is a hub of commercial activity within the global marketplace.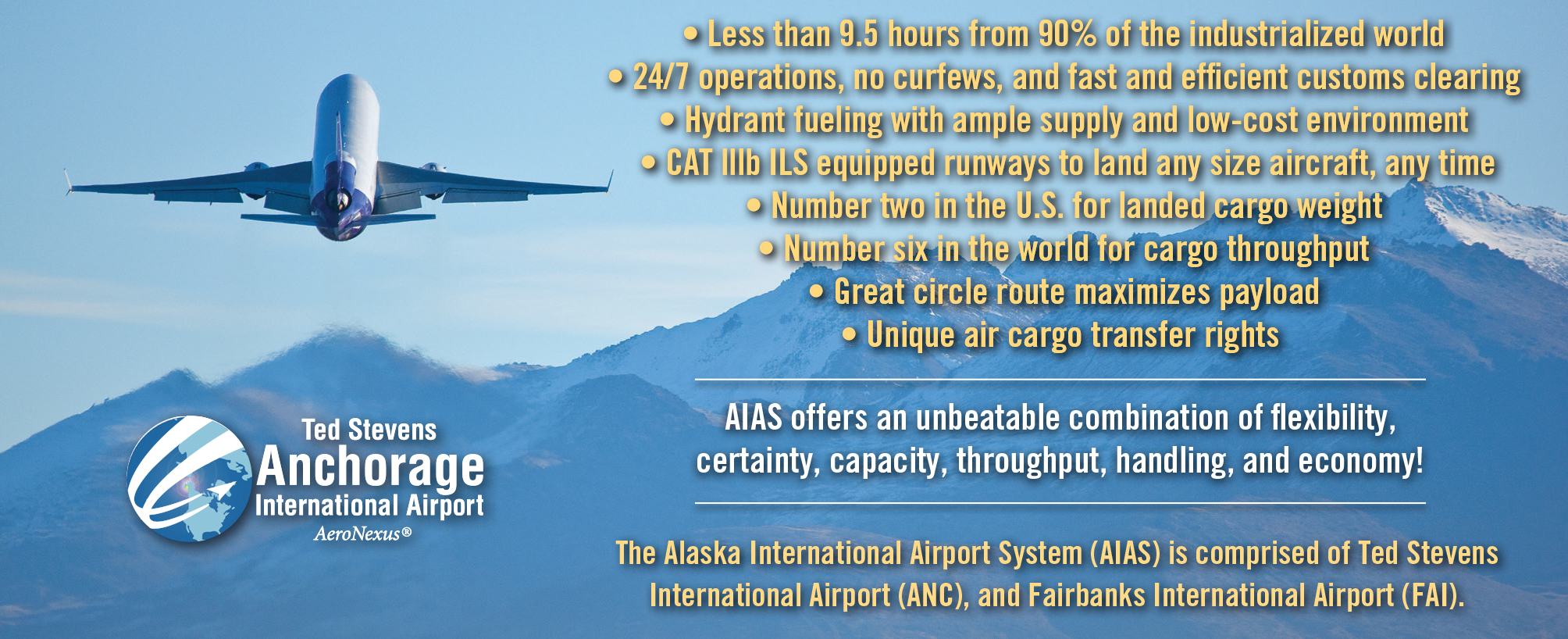 Cargo Markets Benefits for the Alaska International Airport System (AIAS):
Air Cargo shippers face a trade-off between fuel cost, time and aircraft carrying capacity
Economics favor refueling at AIAS with heavier payload than bypassing AIAS with lighter payload
Strategic link to Asia and the Pacific Rim
AIAS is a major sorting and transfer hub for domestic and international carriers
Liberal Cargo transfer rules unique to only Alaska and Hawaii
Facility Reliability

+/- 10 minutes divert Trans-Pacific
Ability to accommodate state-of-the-art Design Group VI (VLA) 747-800 / A380F aircraft
No simultaneous closures
Open 24-7-365
95% Visual Meteorlogical Conditions
ANC holds a unique position among international air gateways. In the 1990's, the US Department of Transportation began to permit air carriers from some countries to conduct expanded cargo activities at ANC. These activities include:
Cargo transfer from a foreign carrier's aircraft to any of its other aircraft
Transfer from a foreign carrier to any US air carrier
Transfer from one foreign carrier to any other foreign carrier
At Ted Stevens Anchorage International Airport, location, facilities, service, and one-of-a-kind liberal air cargo regulations mean that air carriers get an unbeatable combination of less risk with higher payoffs.
With 4,612 acres and space available for development, there is tremendous opportunity for new innovation and industry. ANC is determined to become an Aero-Nexus: a meeting point of the aviation industry for fulfilling the existing and emerging needs of the aviation and cargo industries.
Ted Stevens Anchorage International Airport is eager to usher in the future offering outstanding service, incredible location advantages, and abundant growth potential to international cargo carriers.
Located equidistant from Tokyo and New York, ANC is located only 9.5 hours by air from 90% of the industrialized world, providing unmatched access to the world's markets. The location is one of the reasons that Ted Stevens Anchorage International Airport is the fifth largest airport in the world in terms of cargo throughput and the second largest in the United States for landed weight of cargo aircraft. ANC leads the world in snow removal and de-icing capabilities. Five-time winner of the Balchen Post Award for Large Airport Snow Removal Programs, ANC is proud of its record of never closing due to snowfall. Its liberalized air cargo transfer rights and location allow for both cost and operations efficiencies that are not available elsewhere. Air carriers can achieve efficiencies by locating their aircraft operations centers at this strategic location. For manufacturers and third party logistics providers there are numerous global logistic efficiencies inherent in an Anchorage location.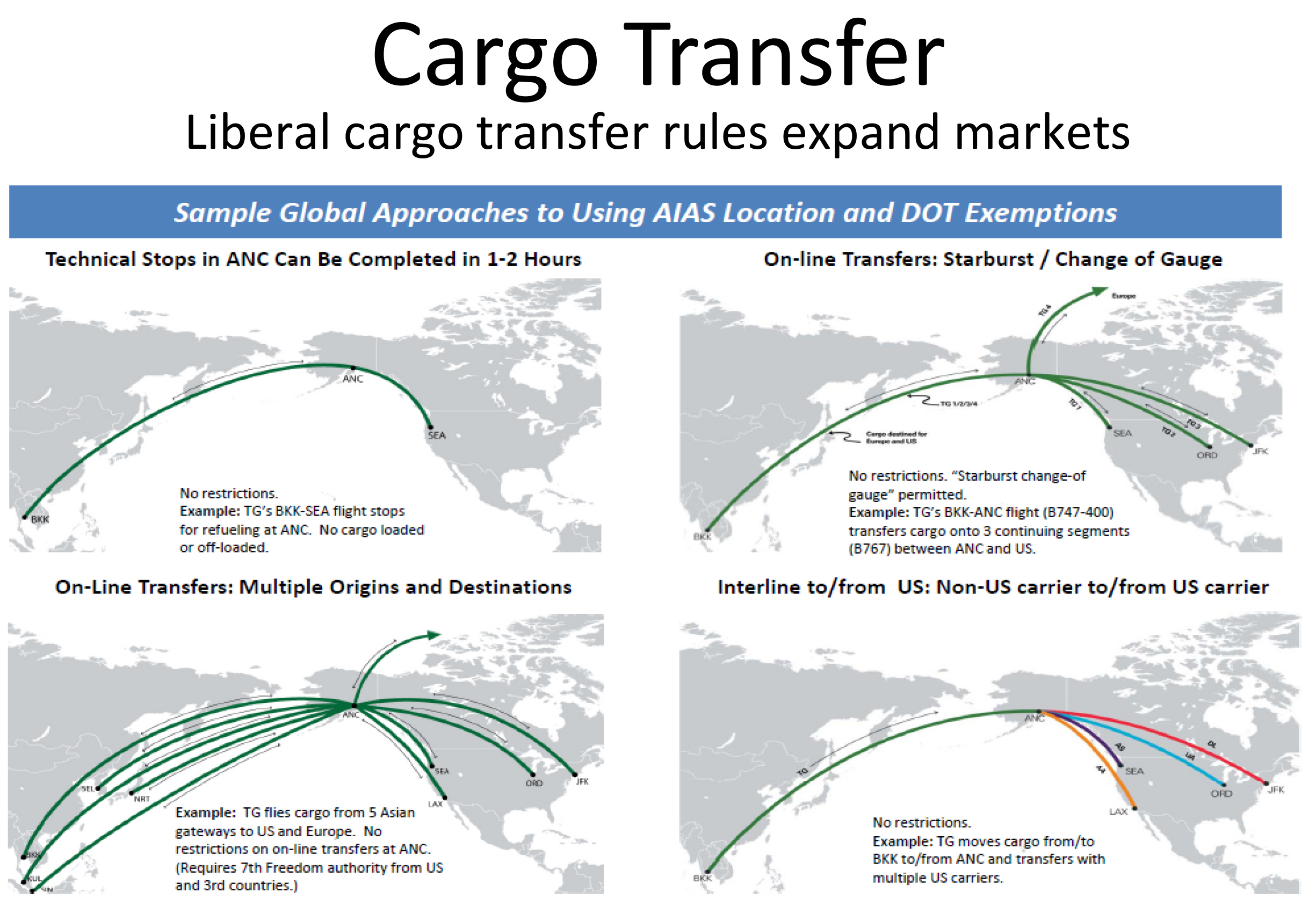 Air Cargo Transfer Opportunities
Ted Stevens Anchorage International Airport was originally established as a small outpost on the outskirts of Anchorage in 1948. Today, 50 carriers land at ANC, including FedEx and UPS, which have transpacific sort facilities at the airport. ANC serves almost 5 million passengers per year; however, the mainstay of ANC is cargo, which represents 80% of the business at ANC.